Safe Streets is about to embark on its 23rd year of National Night Out in the Topeka/Shawnee County community. This annual event, which will be held Saturday, August 10, brings neighborhoods together to connect with one another and local law enforcement. The simple act of getting to know your neighbors is the best form of crime prevention.
In Shawnee County, neighborhoods are encouraged to hold individual events on August 10. It is not too late to register. About 80 neighborhoods have already registered. Neighborhood activities vary – some may host an ice-cream social, cookout, pot luck dinner or a pool party.  Some events are smaller with around 25 people, and others are larger with more than 300 attending.
In 2018, Topeka/Shawnee County ranked 6th in the nation for cities of comparable size, for its National Night Out events.
NNO events in this area are coordinated through Safe Streets in partnership with local law enforcement including the Topeka Police Department, Shawnee County Sheriff's Office and Shawnee County District Attorney's Office and with area businesses, including Westar Energy, Prairie Band Potawatomi Nation, Clayton Wealth Partners, Reser's, Hy-Vee, Shawnee County Parks and Rec, Dillon's, Frito Lay and many others.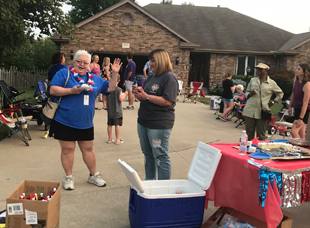 This year's NNO Kick-off Party for the Topeka area will be held on Friday, Aug. 9, from 5:30-7:30 PM, at Hy-Vee, 29th & Wanamaker. Games, music, prizes, food and fun in the Hy-Vee parking lot. All are welcome to attend.
To sign up your neighborhood or to find out if your neighborhood has National Night Out plans, contact Safe Streets at 785-266-4606. You don't have to have a neighborhood organization to host an event, so contact your neighbors and Safe Streets and get involved today!
Safe Streets, a program of Prevention and Recovery Services, is a local crime prevention and substance abuse prevention organization in Topeka. For more information about National Night Out, go to www.natw.org.