Bette Midler is being called out for making up quotes and attributing them to President Trump. Midler was particularly criticized on Twitter after posting the fake quote alleging Donald Trump made the statement in a 1998 People magazine article.
The fake quote read, "If I were to run, I'd run as a Republican. They're the dumbest group of voters in the country. They believe anything on Fox News. I could lie and they'd still eat it up. I bet my numbers would be terrific."
"He certainly knew his crowd," 73-year-old Midler captioned the post.
However, people immediately took to the comments to point out her poor research skills or deliberate lying. It's also not the first time the actress has been caught faking news about conservatives to make headlines.
"This is completely fake and every informed person knows it is a lie," one person wrote.
A number of people responded with another viral quote attributed to Abraham Lincoln: "Don't believe everything you read on the internet just because there's a picture with a quote next to it."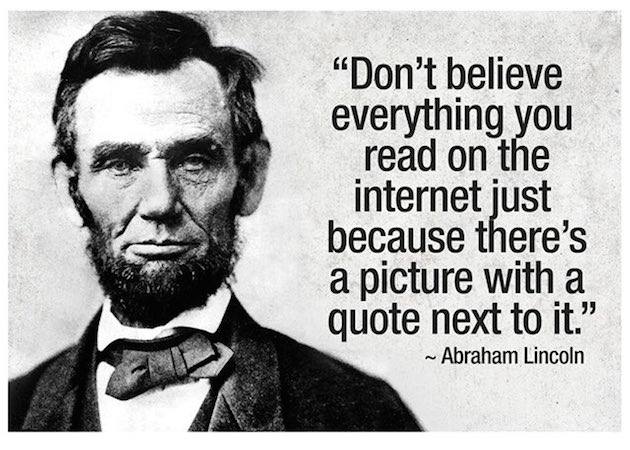 "This is a blatant fake and a blatant lie," filmmaker Robby Starbuck wrote. "Even left wing fact checking site Snopes had debunked it."
Fact-checking site Snopes pointed out that the now-debunked quote first appeared as a meme in October 2015, when Trump's presidential campaign had begun to gain attention.
"Despite People's comprehensive online content archive, we found no interview or profile on Donald Trump in 1998 (or any other time) that quoted his saying anything that even vaguely resembled the words in this meme," Snopes stated.
The website added that, "Trump appeared somewhat regularly in the magazine's pages before he came to star on The Apprentice, but the bulk of the magazine's celebrity-driven coverage of him back then centered on his marriages to, and divorces from, Ivana Trump and Marla Maples."
"PEOPLE looked into this matter exhaustively when the quote first surfaced," a magazine spokesperson said in a statement obtained by Politifact. "We combed through every Trump story in our archive and did not find anything remotely like this quote–and no Trump interview in 1998."
Snopes added that the quote referenced Fox News as a major network in 1998.
However, "While the Fox News Channel was rolled out across major American news markets between 1996 and 2000 (and thus isn't entirely chronologically out of place in a circa-1998 quote), the network wasn't nearly as prominent or widely watched until the 2000 election of George W. Bush, the September 11th attacks in 2001, and the start of the Iraq War in 2003.
"Before that time, although Fox News was making its way into living rooms across the United States, it was not exceptionally well-known (or particularly regarded as a right-leaning outlet) in 1998."