By Mollyanne Gibson |
I traveled with Trash Mountain Project to Tegucigalpa, Honduras to build an aquaponics system at Amor Fe y Esperanza school for a week in February. It was incredible to witness God's work through his people in Honduras to bring light to a very dark situation in the trash dump community.
Amor Fe y Esperanza (AFE) school educates 130 children whose families make their living scavenging on the trash dump. AFE feeds the students a nutritious meal, offers safe housing for low rent, and provides access to medical care. The aquaponics system we built at AFE will be used to supplement the nutrition program for the school.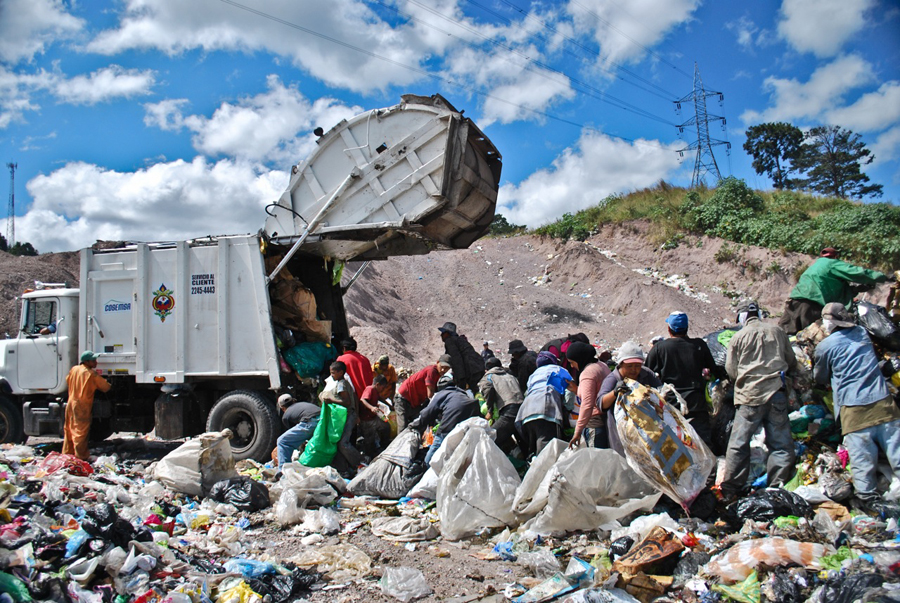 Last summer, I interned for Trash Mountain Project (TMP). I learned to run the TMP aquaponics system in Topeka. Aquaponics is a synergistic system of interconnected tanks of fish and plants. The fish waste is used as fertilizer by the plants, and the plants filter the water to be recycled back into the fish tanks. The aquaponics system built at AFE will provide vitamin-packed vegetables and protein-rich tilapia fish for the undernourished children.
My favorite memory of this trip was adding 6,000 gallons of water to the completed system. The school staff explained aquaponics to the curious water truck drivers. Students and teachers came out to watch us add the water. Young students happily splashed their hands in the water as the tanks filled. The team was thankful and excited to see our week's work and years of planning come to fruition!
Because I am a pre-medical student, I had the privilege of shadowing at the AFE medical clinic that provides care for families in the trash dump community. I shadowed Hollie Macenczak, an American nurse and director of the clinic. She leads a staff of two Honduran doctors and one nurse. I was amazed at their creativity and dedication to make their limited resources work for the community. She created access to preventative medicine such as annual pap smears for the women and daily vitamins for the elementary students. Preventative healthcare is a key component to overcoming the short-sightedness that often accompanies extreme poverty. The health clinic treats conditions caused by the working and living conditions such as internal parasites, severely infected lacerations, and asthma triggered by toxins in burning trash. By their compassion, the medical staff imparted dignity to patients who are often treated as less than human because of their economic situation.
AFE encourages their students to dream big. When we toured the school, in each classroom the students told us their name, age, and what they want to be when they grow up. When AFE began, the students couldn't dream beyond being a truck driver on the dump. Now the students tell us they want to be teachers, policemen, singers, firemen, lawyers, or doctors. We told each class, "te veo en la universidad" (see you at the university) and they replied, "claro que sí" (of course!).
In 2001, Honduran Pastor Jeony OrdoÃez founded AFE when he began teaching school to the children on the dump. There was no money for desks or supplies, so they sat on tires and used paper and pencils scavenged from the dump. The first year there were 20 students. The second year, 50 students. The third year, 80 students, and the government told Pastor Jeony his school couldn't meet on the dump. The school moved across the street at a soccer field: 1st grade met beside one goal post, 2nd grade under the big tree, 3rd grade under the small tree, and 4th grade in the middle. Over the next few years, God provided land, a building, and desks for the school. Today AFE serves 130 students from the trash dump community and also provides a nursery, medical clinic, housing assistance, transportation to church, and nutrition program.
An adorable 4-year-old girl gave me a tour of AFE's nursery. She lead me by the hand and told me, "this is my kitchen were we eat food, this is my bathroom, this is my crib where I take a nap, this is my teacher, and this is my desk." Before AFE's nursery, mothers would have no option but to bring their babies with them onto the dump. Today, it is a beautiful scene to see mothers walking their young children to AFE every morning.
One afternoon my team went onto the dump one day to hand out food and water. There are about 1500 men, women, and children who sift through the trash dump for plastic bags and cardboard that can be sold for recycling for a few dollars a day. Trash Mountain Project documentaries accurately portray the conditions; a smell like ammonia and rancid garbage, people scavenging beside vultures and dogs, pervasive filth and grime. These are real people. I spoke with a kind older woman named Maria who has eight children. I watched the men play soccer together. We prayed for a man who wants to leave the dump to find work elsewhere. These are people made in the image of their Creator. They have names, families, friends, likes, dislikes, fears, dreams, and hopes.
God is doing amazing things among his people in Honduras. We had the privilege of attending church on Sunday. It was beautiful to comprehend that God is the same God regardless of if
you are an American college student or Honduran laborer.
Being home now is hard. It is hard to leave the children who stole little pieces of my heart. It is hard to deal with American materialism after living in a place where people thrived with few material possessions. It's hard to know it won't always be this hard because I will start to forget.
But being home is good too. It is good to see my friends. It is good to be with my family who I love and I missed. It is good to talk about the marvelous work God is doing in Honduras.
I hope that my life never quite goes back to normal. I hope my pocketbook more faithfully responds in giving. I hope my spirit remembers that my Honduran brothers and sisters in Christ and I worship and obey the same God. I hope my heart abhors materialism and chooses contentment in every circumstance. I hope I continue to deeply love people; rather they are children in Honduras, friends from church, or classmates at school.
Mollyanne Gibson is a senior in Biology and Biochemistry at Washburn University. She will attend medical school at Kansas University after graduation. Mollyanne interned for Trash Mountain Project at their Topeka Aquaponics Experiment Station in Summer 2014. When she is not studying, Mollyanne enjoys reading books, eating ice cream, and learning about different cultures. Â