The release doesn't go into specifics, but Hyperloop One must feel justified in saying that the route is worth the effort. It claims that the number of people traveling between the three cities would increase by 80 percent, from 16,000 to 51,000. In addition, the local economy is said to be $410 million better off, thanks to reduced journey times, with an extra $91 million coming in savings from a less congested I-70.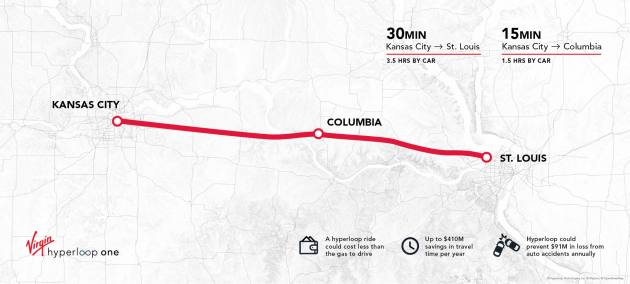 Virgin Hyperloop One has doubled down on its claim that journey times between Kansas City and St. Louis could be cut to under half an hour. The release suggests that the trip would now last 28 minutes, with the time to Columbia — roughly equidistant between the two — being cut to 15 minutes.
The most interesting claim is that the price of a ticket between St. Louis and Kansas City would be "lower than the cost to drive (based on gas alone)." The details are couched in a lot of ifs and buts, but we can use publicly-available statistics to make some guesses as to the company's thinking.
At the start of 2018, the EPA reported that the average US fuel economy was 24.7 miles per gallon, and the journey between St. Louis and Kansas city is 248 miles along I-70. The current average price of fuel per gallon is $2.91, so if we do (248 / 24.7) x 2.91, the final figure is $29.21. That would mean that users could expect a ride in one direction to cost around $30.
One of the very first claims the company made was that trips on the Hyperloop would cost less than that of a bus. Greyhound's prices for runs between St. Louis and Kansas City range between $22 and $65 depending on the date of travel. If the math is correct, give or take, the company is going to sail very close to its original target.