Jessica Padgett slipped into her white lace wedding dress, grabbed her bouquet of yellow flowers and put the final touches on her makeup.
From all appearances, she looked like a blushing bride getting ready for her wedding day. But instead of a wedding, she was going to visit her late fiancé's grave.
"It's the day you dream about when you are little: You found the man of your dreams and you're going to marry him," Padgett, 25, told ABC News.
Her fiancé, a volunteer firefighter named Kendall Murphy, was killed by an alleged drunk driver last fall.
Murphy was responding to an accident scene when he was suddenly struck by a Dodge Ram pickup truck. Local authorities say the driver told police he had been drinking and talking on the phone when he ran into Padgett's fiancé.
The couple set their wedding day before the tragedy occurred. In fact, Padgett had already purchased her wedding dress.
So, instead of letting what would have been her wedding day quietly pass by, Padgett decided to honor her would-be-husband.
She set up a photo shoot with Mandi Knepp, put on her dress and took her wedding pictures alone. Instead of posing with her would-be-husband, she smiled next to Murphy's firefighter uniform, his hat, boots and the American flag.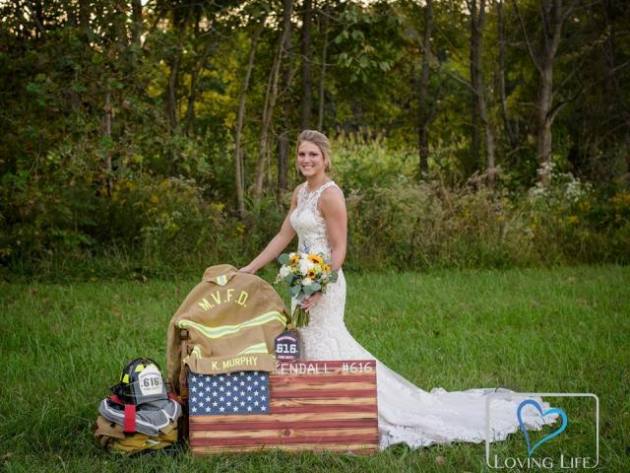 She also visited his grave, kneeled, and remembered the man who asked her to marry him.
It was an emotional day, but Padgett was surrounded by her family and loved ones.
"It was closure," she said. "I've been through so much and it led to our wedding. This is the finale of us. I wanted to celebrate it, even if I don't get to walk down the aisle and say I do."
Knepp couldn't help being touched as she took Padgett's pictures.
"Even if it was hard for me, I can do hard things for people," Knepp said. "People who need healing or help, I can help them."
The powerful wedding pictures have since gone viral on social media, with many people leaving encouraging messages to the bride.
Padgett is an outspoken Christian and has posted numerous prayers and Bible-based messages on her Facebook page following Murphy's death.