The Shawnee County Fair starts with the 4‐H Horse Show on July 20th and 21st, and continues with public exhibits and programs from the 25th through the 29th. The Fair will be held in the Kansas ExpoCentre in Topeka. There will be vendors, food, concerts, and a whole lot more. Admission and parking are free.
The Shawnee County 4‐H Horse Show takes place in the Domer Livestock Arena on the 20th and 21st. Kids and adults involved with the county 4‐H Horse project take part in various activities to demonstrate their skills and earn a place to compete at the State Fair in September. The general public is invited to come out and watch the activities.
The Fair opens on the 25th. Livestock exhibits and programs take place in Domer Arena, with other projects and exhibits are in Landon Arena and Exhibition Hall. There's a wide variety of exhibits, vendors, entertainment, and other activities throughout all four days of the Fair, including the Topeka Model Railroaders and N‐Scale Modelers, the Little Feet Farmstead petting zoo, the "Hands on Horses" interactive horse demonstrations, 4‐H projects, the 4‐H County Dog Show, and much, much more!
If you have a creative flair, you can enter a project in the Open Class competition. Entry and judging for Open Class projects takes place Thursday evening, and some of the classes have cash prizes.
Friday, the 26th, is Kid's Day at the Fair. This year, there's a show commemorating the 50th anniversary of the Apollo 11 mission to the moon, along with other kid‐oriented activities. The Shawnee County Dog show will be running at that time, and 'Magnum' from the Topeka Police Department K9 unit will be out to visit. Along with the various activities, there's a Quilt Show in the afternoon showcasing beautiful pieces of work.
Friday evening is the Annual Concert, and admission is free. The opening act this year is Beauty and the McBeast, an acoustic duo from Kansas City. Rusty Rierson and the Forever Young Band with Ernie Rodina returns as the main performance this year.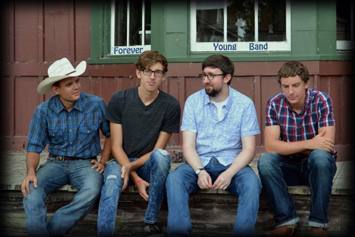 Saturday's activities include the Proubsky's Pickle Eating Contest, a Pedal‐Powered Tractor Pull, the Helping Hands Humane Society Adoption Trailer, a Kid's Activity Center, the Mr. and Miss Land of Oz Pageant, and other entertainment throughout the day.
The fair concludes on Sunday with the 4‐H Talent Show, Rabbit Agility course, the 4‐H King and Queen announcement, and the 4‐H Fashion Revue.
The Fair is open to the public from 8am to 10pm on Thursday, Friday, and Saturday and from 8am to 4pm on Sunday.
For more information, visit www.shawneecountyfair.org or check out Shawnee County Fair on Facebook.
–Metro Voice News