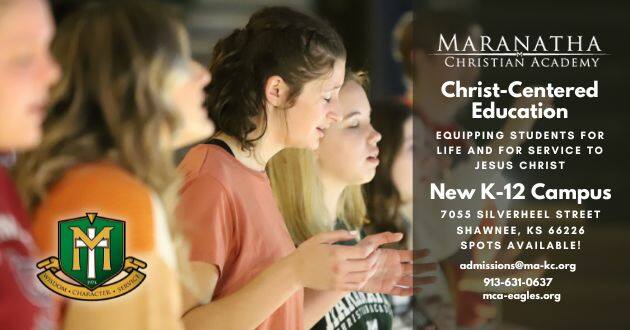 Across the nation, communities are preparing for a new school year. For many parents, coronavirus has expanded their knowledge of alternatives to public education. Many parents are considering Christian education as an alternative. These area private Christian schools want you to know they are willing, able, and ready to welcome your student back to school in August. Check out these great schools as you consider back-to-school options.
Calvary Lutheran School
Calvary Lutheran School offers an exemplary education within a caring, Christ-centered environment. Serving the south Kansas City community for nearly 75 years, Calvary has a long tradition of providing a strong academic foundation for students.
READ MORE
Christ Prep Academy Football
Christ Prep Football seeks to build godly men for the next generation. We accomplish this by teaching core values such as confidence, courage, humility, and self-discipline. We use the disciplines that football offers as the teaching device.
READ MORE
The Lutheran High School of Kansas City
The primary mission of The Lutheran High School of Kansas City is to guide and mentor students on their faith journeys through adolescence and beyond.  Our mission statement "preparing lives for today, tomorrow and eternity" is the driving force behind our school and our supporting community as we strive to strengthen our relationship with our Lord and Savior.  Our 2022-2023 theme verse is Psalm 116:1-2, "I love the Lord, for he heard my voice; he heard my cry for mercy. Because he turned his ear to me, I will call on him as long as I live."
LEARN MORE
Maranatha Christian Academy
Maranatha Christian Academy (MCA) is more than just another school. Maranatha is a rigorous academically elevated education. Maranatha is community. MCA has been a leader in Christian education in the Shawnee, Kansas, area for over 45 years.
READ MORE
Northland Christian Schools
At Northland Christian Schools, providing a Christian education means more to us than simply providing Bible courses. From the tiniest Trailblazer to graduates, our staff and faculty pursue a holistic integration of biblical Truths in every aspect of learning. We believe the Holy Spirit is moving in every lesson, encounter, and child. We walk with each student on their faith journey, recognizing that a relationship with Christ is the most important gift of education.
READ MORE
Outreach Christian Education
At Outreach Christian Education, we excel in providing quality, Christ-centered education. Our students are cultivated in Godly principles and challenged through our curriculum. It is our desire to impart in our pupils the skills necessary to thrive in their adult lives as productive contributors to society. In addition, our students are endowed with the guidance and development of character traits necessary to make a powerful impact as the next generation of world-changers.
LEARN MORE
Overland Christian Schools
Located at 74th and Metcalf in Overland Park, Kan., Overland Christian Schools offers quality Christian education for students K-3 through high school. Since 1938, OCS has offered students a Christ-centered atmosphere to pursue truth in a changing world.
READ MORE
Summit Christian Academy
Since 1989, Summit Christian Academy has empowered students to achieve their God given potential through excellent academics and spiritual training in a compassionate environment. Over the past 33 years, SCA has grown from 32 to 1200 students, and is ranked as one of the top private schools in the Kansas City area.
READ MORE
The Hearth Room
Before having children, I was a teacher and school administrator, but I've been homeschooling until we discerned it was time to work on launching a school.
As we contemplated the true purpose of education, the conclusion was "to equip students for joyful lives of excellent service to the Lord."
READ MORE
Timothy Lutheran School

Timothy Lutheran School (TLS), established in 2001, is located at 301 E Wyatt Rd, Blue Springs, MO. Headed by Ken Holland, Principal, TLS serves 175 students, grades Preschool – 8, with a staff of 12, 10 of whom are accredited.
TLS is affiliated with the Lutheran Church Missouri Synod and is accredited by the National Lutheran Schools Association. Timothy Lutheran School is known as the "best kept secret of Blue Springs"
READ MORE
Whitefield Academy
Whitefield Academy, Kansas City's premiere classical Christian school, is consistently ranked as the metro's number one Christian school and scores among the top three schools in the KC metro in standardized test scores.
READ MORE