Join Dwight and Anita Widaman following the journeys of Paul and the Apostles in Greece and Turkey. Our custom, 10-day experience includes a 7-day cruise aboard the Journey – the new flagship of Celestyal Cruises. Prior to the cruise departure, we'll enjoy a custom tour of Athens and Corinth including the Acropolis, Mars Hill, the ancient Corinth Canals, Paul's judgment seat, plus other spectacular sites central to the first century of Christianity.
A cruise is the best and most convenient way to follow the Steps of Paul across Greece and Turkey. After Athens and Corinth, our ship sets sail to Thessaloniki, Berea, Kavala and Philippi, Istanbul, Pergamon, and Ephesus, and finishes with a visit to the Isle of Patmos and the cave where John was inspired to write the Book of Revelation.
What's included
Dates: Depart October 9, 2024, from the U.S. Arriving in Athens Oct. 10.
2 nights and days in Athens pre-cruise
Guided Steps of Paul in Athens
Guided Steps of Paul in Corinth
7-night cruise aboard the Celestyal Journey (INFO)
Dwight and Anita as your personal hosts each day
All transfers! Including airport to hotel, hotel to port, and port to airport on departure
Welcome restaurant dinner on the first evening in Athens
4-star hotel in the famous Plaka Neighborhood at the foot of the Acropolis
All breakfasts in Athens
All sites and special activities
All port charges
All gratuities onboard the ship
All tips for tour guides and coach driver for Athens and Corinth and during the cruise
Half and full-day excursions with an expert guide on an air-conditioned coach
Two special lunches on full-day cruise excursions
6 shore excursions during the cruise including Thessaloniki and Berea, Kavala (Neapolis, Philippi), Istanbul, Dikili (Pergamon), Kusadasi (Ephesus and Miletus) and Patmos
Choice of interior or exterior staterooms (details below)
Unlimited classic drink package during all onboard meals
Award-winning onboard dining including full buffets or restaurant-style
Package Prices with stateroom levels listed below.
READ MORE: Here's our story on our own Steps of Paul journey
Itinerary
Day 1 | Wednesday, October 9: Depart U.S.
Depart on overnight flights to Athens, Greece.
Day 2 | Thursday, October 10: Arrival in Athens, Greece
Upon arrival, transfer to your Athens Hotel for check-in.  The hotel is centrally located in the Plaka neighborhood so we can easily explore the area and get our first awe-inspiring views of the Acropolis. That evening, Dwight and Anita will host an included Greek Welcome Dinner. After dinner, we'll return to the hotel and gather at the rooftop lounge for an inspiring view of the Parthenon as it illuminates this ancient city.
Day 3 | Friday, October 11: Athens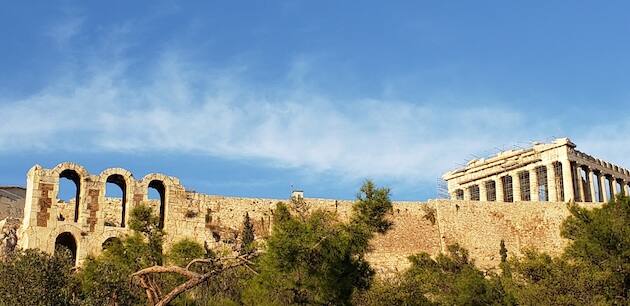 Panoramic city bus tour including the Parliament building with the marching guards and the famous historic Olympic Stadium. Guided tour of the iconic Parthenon on the Acropolis. Next door, visit Mars Hill where Paul spoke to the Athenians and learn about his methods of evangelization (Acts 17:16-34). Next, it is the exquisite Acropolis Museum to view some of the most famous statues in history – you'll likely remember them from your high school history class! Enjoy lunch and the afternoon on your own in the famous Plaka Neighborhood made up of quant Greek homes along tree-lined alleyways, neat gardens and boutique shops. Explore the numerous little Greek churches or local cafes, or walk a few blocks to see impressive Greek and Roman ruins. Overnight in Athens.
Day 4 | Saturday, October 12
Check out of our hotel and board our private motorcoach for a scenic drive along the coastal road to Corinth, home to Paul for 18 months (Acts 18:1-22). We'll stop at the amazing Corinthian Canal dug between two seas that once separated ancient Sparta from other warring city-states. Guided tour of the streets of Ancient Corinth walked by the Apostle Paul, Priscilla, and Aquilla whom he stayed with during his visit. In Corinth Paul met Aquila and Priscilla, Jews recently expelled by Emperor Claudius from Rome. We'll see the actual stone seat where Paul was presented for judgment, the amazing Erastus Stone (Romans 16:23; Acts 19:21-22; 2 Timothy 4:20) which is evidence of Paul's friend. Return to Athens in the afternoon to board the Celestyal Journey and get settled in your stateroom.
Day 5, Sunday, October 13: Thessaloniki/Verea (Berea)
Sightseeing coach tour of Thessaloniki/Verea (Acts 17:1-9), a city St. Paul addressed in two of his letters. Drive to Verea where Paul preached and the Vereans "studied the Scriptures daily" (Acts 17:10-15). Arriving back in Thessaloniki, you can have lunch in town or onboard ship.  Thessaloniki is a beautiful city where you can enjoy an afternoon stroll visiting such sites as the White Tower along the seafront promenade, the Church of St. Demetrios, the statue of Alexander the Great plus great monuments of the Roman age. Dinner on the ship.
Day 6 | Monday, October 14: Kavala/Philippi
Visit Kavala (Neapolis in Acts 16:11) where Paul, Silas, Luke, and Timothy first set foot in Europe. We'll travel a short distance to Philippi, where Paul first preached the Gospel on European soil (Acts 16:12ff.). Special time on the river's edge where Paul baptized Lydia, the very first known European Christian. Enter the beautiful Church of St. Lydia. Sit in the Roman theatre as we listen to Paul's message to the Philippians. Tour Ancient Philippi where Paul and Silas preached and see the prison where they were imprisoned. Stop to walk on the actual stones of the Egnatian Roman Road which Paul used to travel from city to city. Return to Kavala where you can dine in one of many cafes along the water then explore nearby points of interest including a hilltop castle and aqueduct. Or, you can enjoy a lunch buffet on board the ship. Your afternoon is free to do as you wish.  Dinner and overnight on the ship.
Day 7 | Tuesday, October 15: Istanbul
As the ship sails into one of the most magnificent cities in the world, Istanbul, you'll be treated to a panoramic view of both Asia on the right and Europe on the left. Formerly Constantinople, the center of the Eastern Roman Empire and home to five of the Ecumenical Councils. Istanbul sits astride the continents of Europe and Asia and here East meets West. In this full-day excursion, we'll visit the Blue Mosque, a must on any tour.  Next is the famous Hagia Sofia which towers over the city.  It was the largest church in Christendom for 1000 years before the Ottoman conquest. We'll also see the magnificent underground Byzantine water cistern that is bigger than two football fields and as tall as a 5-story building.  Included is a special Turkish lunch. Next is a visit to the Grand Bazaar with its 4,000 spice and other stalls all under one roof! Finally, free time on your own to visit the many cafes and shops on the European side of the city. Our coach returns us back to board the ship for dinner and free time.
Day 8 | Wednesday, October 16: Dikili/Pergamon
Sleep in today and enjoy breakfast, onboard activities, the pool and more. Then have lunch before we board our coach for our tour from the port city of Dikili to Pergamon, one of the seven churches of Revelation (Rev. 1:11; 2:12-17). We'll visit the city's Acropolis and ruins of the ancient Asklepion hospital, one of the best-preserved ancient sites in Turkey. With the coach arriving back at the port, you have a late afternoon and early evening to enjoy this picturesque little city. Visit the shops and have a special treat of Turkish Delight. Don't forget to pick up some Pergamon (Bergoma) cheese – a regional Turkish favorite and easy to take home (we did!).  The locals are a delight and will help you navigate the photogenic streets and port. Dinner and evening free aboard the ship.
Day 9 | Thursday, October 17: Kusadasi/Ephesus
We arrive at the Port of Kusadasi early in the morning then it's off to our full-day excursion (includes lunch) to Ephesus (Acts 19) and more. One of the Seven Wonders of the ancient world, Ephesus holds numerous significant sites that will inspire and amaze. We'll tour this marvelous city including the 24,000-seat theatre where we'll learn about Paul's message to the Ephesians and visit the House of Mary. Group picture at the World Heritage Site of the Celsus Library (pictured). We'll stroll the marble colonnades of Curetes Street to visit Trajan's Fountain, Hadrian's Temple, Scholastica Baths and the astonishing Terrace Houses. Don't miss the ancient toilets, the billboard and the temples where Paul preached!  We're not done yet. We'll board our coach for a short drive to enjoy an included and yummy lunch in the outdoor shade. Next is Miletus–once one of the greatest and wealthiest cities in the Roman Empire mentioned by Homer in the Iliad. Paul stopped here to preach and meet the elders of the church of Ephesus (Acts 20:15-38). Arriving back at port at the end of the day, you are free to explore or return to the ship to enjoy onboard activities, eat or lounge.
Day 10 | Friday, October 18: Island of Patmos
Disembark on the Island of Patmos, a "Sacred Island" for Christians. John received his apocalyptic vision of Revelation while in exile on this island (Rev. 1:9) and Jesus appeared and encouraged him. We will visit the cave and the Monastery of St. John then visit a special museum with ancient Bibles and relics from the period. After lunch, continue exploring the port of Skala or visit Chora, a mountain-top village with expansive views of the Aegean Sea and surrounding islands. Back on the ship for dinner and overnight sailing to Athens.
Day 11 | Saturday, October 19: Return to Athens and Departure
Today we arrive back in Athens. After breakfast, we'll disembark the ship and board our private motorcoach for our transfer to the airport and our return flight home.
Pre-Cruise 2-Day Tour: Herodion Hotel, Athens
In Athens, we'll enjoy the First Class Herodion Boutique Hotel in the upscale and safe Plaka neighborhood near the Acropolis. This will be our home from Thursday to Saturday as we tour Athens and Corinth.
Just steps from the new world-class Acropolis Museum, the Herodion has a sweeping view of both the Acropolis and the acclaimed New Acropolis Museum, being just a few yards from the museum entrance.
The hotel is along the pedestrian walk unifying the most important archaeological sites and is also near to the trendy areas of Gazi and Kerameikos. Framed by a museum-quality modern sculpture at the entrance, it is a superior hotel with an elegant old-world charm. Guests of the hotel enjoy a host of modern living amenities.  The service is attentive and the 90
guest rooms are tastefully appointed, some with a spectacular view of the Acropolis.
From rooftop lounges rich in sunbathing facilities, outdoor Jacuzzis and a unique outdoor cafe/bar and restaurant with breathtaking views, to the winter garden atrium and spacious dining areas – it's easy to sit back and take it in all the surrounding beauty and history.
You'll enjoy a daily breakfast buffet as part of your Steps of Paul package.
About Our Cruiseliner, the Journey
We'll be sailing on the Celestyal Journey, the newest ship in their award-winning fleet. The cruiseliner offers a relaxed experience through its Dream Suites and Cosmos Cabins. This is a comfortable, 12-deck mid-size ship that can host just 1,200 passengers at full capacity.  The staterooms offer far more than just a place to sleep; they are designed as a sanctuary to unwind and relax as guests embark on their adventures on the Aegean Sea. You'll love the warm and intimate ambiance that sets Celestyal apart from the impersonal mega-ships.
Love food? The Journey guides guests on a curated culinary "journey," indulging their taste buds through the Mediterranean and beyond. Guests can enjoy moonlight dining in Thalassa, daytime Greek lunch or any-time dining in Fig & Honey and sample fresh Mediterranean bites at the Smoked Olive restaurant.  Guests can head further afield with everything grilled at Grill Seekers or savor an Asian-inspired menu, designed to give tastebuds a treat treatment at Pink Moon. Guests can even learn from Master Chefs at the cooking demonstration area or go full-star treatment with a private dining experience at the new Chef's Table. After a gastronomic adventure, guests can sip and stargaze at the new Fizz Club, savor the old and new world at The Grapevine Wine Cellar or relax with coffee or drinks to mellow piano tunes at the Blue Bar & Lounge.
Seven specialty dining experiences, including the private chef's table, live cooking demonstrations, Asian cuisine at Pink Moon, Greek grazing at Fig and Honey, and fresh Mediterranean bites from Smoked Olive. 24/7 buffet open for all guests.
Eight lounges and pubs, some with with live music and ocean views
World-class cruise entertainment will spoil you, including the nightly live show in the 2-deck Amphitheater, live music throughout the ship, cooking workshops and inspiring lectures.
Two idyllic glittering pools (including one with a retractable roof) and Jacuzzis offering spectacular views and connectivity with the sea, numerous open-air sun decks, an entire deck dedicated to wellness and the immersive Sozo Spa
A curated and immersive range of experiences highlighting local influence, both onboard and on shore
Guests can work out in the ship's fitness area with a wide range of equipment from cardio to weights and a dedicated fitness instructor or enjoy open air exercise on the tennis and basketball courts and outdoor amazing jogging track as the Greek isles slip by.
Three Levels Reserved for our Steps of Paul Tour and Cruise
We have created a custom-designed Steps of Paul Cruise with Athens and Corinth 2-night, 2-day ground tour. The below packages include everything mentioned above, except flights, for the 10-day experience.
We have secured a special rate and reserved a specific number of cabins at each level. Space is limited at each level so don't delay to ensure you can reserve the stateroom level you desire. Deadline to join the cruise is December 15.
1) Interior Stateroom Cruise/Athens & Corinth Package:  $2550
Interior Cosmos Cabins at deck 5, 6, 9 and 10 (~17 sqm) are quite comfortable and can accommodate up to 4 persons, with 2 lower beds or queen arrangement, plus double sofa bed if needed, bathroom with shower, telephone, hair dryer, safety deposit box and TV. Single beds are typically pushed together upon request creating a super queen. Size and layout may vary within the same cabin category.
2) Exterior Stateroom Cruise/Athens & Corinth Package: $2795
Exterior Cosmos Cabins on deck 4 and 5 (~19 sqm) can accommodate up to 4 persons with 1 or 2 lower beds and 1 single or double sofa bed if requested. They include bathroom with bathtub, a rarity today, telephone, hair dryer, safety deposit box, TV and a window.  Size and layout may vary within the same cabin category. Room layout will be customized for passengers before boarding.
3) Junior Suite Cruise/Athens & Corinth Package: $3057
Junior Dream Suites on deck 9 (21 sqm) can accommodate up to 3 persons, with 2 lower beds or a queen and a single sofa bed, bathroom with jet tub or shower, telephone, hair dryer, safety deposit box, TV, panoramic balcony, refrigerated mini-bar and balcony. Junior Dream Suite guests also have designated dining areas in the Smoked Olive and Pink Moon restaurants for all meals. Limited Availability.
Flights:
Flights will be booked as a group from Kansas City but arrangements can be made for those traveling from other airports. We will leave as a group and arrive in Athens as a group and be transported to our hotel.
Fare not available until December but expect it to range from $950 to $1395 pp.
How to Register
For questions, call Dwight and Anita at this landline 816-540-5517 or email Dwight and Anita HERE.
You may also text 816-716-1466.
We have secured a special package rate for everything above and special rates and accommodations are only available as a package with Dwight and Anita.
The Widamans are handling all reservations for guests.