SUMMER CAMP DIRECTORY
When you are looking for the best in Summer Camps for your children, look no further than these great opportunities! From outdoor adventure to worship dance, music, art and more, these camps will have your kids talking all year long!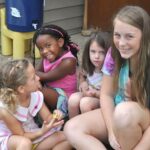 CAMP CUMCITO (City Union Camp in the Ozarks)
ADDRESS: 13220 Mission Rd., Warsaw, MO 65355
TYPE: Overnight Camp
AGES: 4-16
PHONE: 816-474-4599
GET MORE INFO
THE CULTURE HOUSE CONSERVATORY FOR THE ARTS
ADDRESS: 14808 W 117th St, Olathe, KS 66062
TYPE: Performing and Visual Arts
AGES: 3-20
PHONE: 913-393-3141
EMAIL: info@culturehouse.com
GET MORE INFO
GRANDVIEW CHRISTIAN SCHOOL'S CREEPY CRAWLY CRITTERS SUMMER CAMP
ADDRESS: 15608 Fairchild Dr, Kansas City, MO 64147 (Inside Blue River Bible Church)
TYPE: Day/Week Christian Summer Camp
AGES: 3 thru 6th Grade (even those entering 7th)
PHONE: 816-767-8630
EMAIL: gcs@gcseagles.com
GET MORE INFO
KANSAS CITY ZOO SUMMER BREAK CAMP
ADDRESS: 6800 Zoo Drive, Kansas City, MO 64132
PHONE: 816-595-1234
EMAIL: askthezoo@fotzkc.org
Explore nature and the wonderful world of animals at the Kansas City Zoo. During day camps, your children will have adventures in a safe and fun environment that is sure to get a ROAR of approval! Our summer camp curriculums are designed to be age appropriate and are properly chaperoned at all times. Activities may include, but are not limited to: educational games, physical games like tag, crafts, on grounds tours, zoo shows, zoo rides, playgrounds, science experiments, and educational movies.
GET MORE INFO