Across the region there are great summer camps and other resources for families and children of all ages.
Summer camps and programs are a perfect way for kids to connect with their faith and make more friends at the same time. There are  many types of camps to
choose from: traditional away-camps a distance from home requiring 2-3 days to two week stays, day camps where the child returns home each evening,  to longer camps that offer opportunities for training to return as a camp counselor when older. The focus of each camp can vary as well. Some camps are denominational in nature and bring students from their church and other churches in their denomination together. The camps are them-based and bring students from a variety of denominational backgrounds. Either type of camp may focus on spirituality and are often centered around outdoor activities. While this can be true for local opportunities, Day Camps may also be either denominational in nature or open to all children with faith backgrounds. These may also have themes around the fine arts, science, exploration other topics.
church camp, which introduces and strengthens the foundations of the church as well as provides an outlet for youngsters to explore friendships.
No one knows the needs and personality of their child better than a parent. When choosing a camp, make sure to include your child in the decision making. Ask them what their interests are, if friends attending is important or if they want to "get away" from their traditional friend group for a short period to meet new people. By having these discussions, you are sure to find a camp that will fulfill both the desires of the parent and the desires of the student.
Below are camps which are sure to meet your needs.
---
CAMP CUMCITO

(City Union Mission Camp in the Ozarks)

Each summer more than 650 children from impoverished and homeless families throughout the Kansas City metro area enjoy bright sunny days filled with love, laughter and the opportunity to make new friends at our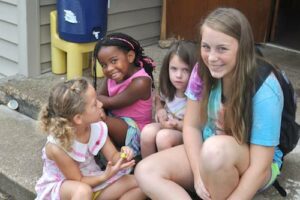 residential summer camp located in Warsaw, Mo. They sleep in clean, safe beds and are provided three nutritious daily meals and wholesome snacks. In chapel, at campfires and during quiet times with caring Christian volunteers, they learn about Jesus Christ and how he can help them build bright futures. Boys and girls ages 7 through 16 attend Big Camp, where they take part in swimming, fishing, hiking, arts and crafts, and other exciting adventures. In our Tot Lot, youngsters 4 through 6 are provided with appropriate summer-camping clothing and swimsuits and enjoy story times, tea parties and pony rides. Weekly sessions are held throughout the summer months for young campers as well as families.
To ensure no camper is left out this year, consider filling one of our many volunteer roles for one or more of our six week-long sessions. We need cabin counselors and assistance in food service, housekeeping and office administration. Lifeguards are also in the list, as well as bus monitors and attendants to assist children departing to camp from the city and returning home again.
If you or your group can volunteer your hearts and hands, visit https://cityunionmission.org/campcumcito/ for a list of all the opportunities yet to be filled!
THE CULTURE HOUSE
Spend your summer at The Culture House … TWO LOCATIONS (Olathe & Oak Park Mall)!
Our 2021 summer programs include dance, theatre, music and visual art … all taught by professionally trained adults.
TWO WEEK INTENSIVE PRODUCTIONS! "A Year With Frog and Toad" (ages 13-20), "Disney's Mary Poppins Jr" (ages 10-13), "Disney's 101 Dalmatians Kids" (ages 6-11) and "Disney's The Little Mermaid Jr" (ages 14-16)
THE GREATEST SHOW: MUSIC AND DANCE EXTRAVAGANZA! You do NOT want to miss this one!
TCH DANCE INTENSIVE! Master classes in all styles for intermediate and advanced students (Ballet Level 3 & up).
RECORDING STUDIO BASICS! Full-scale immersion in our state-of-the-art professional recording studio (ages 13-18)
OTHER AMAZING WORKSHOPS, CAMPS and CLASSES! Music of TROLLS, The Return of Mary, Princess Power, Improv Comedy Camp, Broadway at the Tony's, Intro to Acting, La Petite Princess & Le Petit Prince Ballet, Itty Bitty Ballet, Style Explosion Hip Hop, Me & My Dolly Ballet, Classical Ballet Mini Workshop, Creative Movement, Pre-Ballet, Modern, Ballet (all levels), Jazz, Teen Adult Ballet, Girl Power Vocal Intensive, Rudimental (percussion) Boot Camp, Beginning or Intermediate Songwriting & Theory, Marimba FUNdamentals, Painting, Sculpture & Mixed Media, Drawing (all levels), ROBLOX & Art, Exploring Art, Minecraft Inspired Art, Cartooning & Illustration & MORE!
Openings limited! ENROLL NOW! www.culturehouse.com
The Culture House, founded in 1996, has two locations:
Olathe houses our Conservatory of the Arts which offers extensive training in Dance, Theatre, Music and Art for both the recreational and the vocational student; our professional division that includes Storling Dance Theater; the TCH Recording Studio; and our Summer Broadway Musical Theatre Production at The Kauffman Center!
Oak Park Mall is home to classes and workshops for beginner students in Dance and Theatre, as well as ongoing family-friendly events and activities. The Stage also presents a wide variety of performances, special workshops and inspiring gatherings. Stay tuned for upcoming events!!
We are fortunate to have 50+ professional artists investing their skill and inspiration into our students.
Please explore our website for class listings, calendar of events and upcoming performances (both at Oak Park Stage & Studio and elsewhere in Kansas City). If you have any questions, do not hesitate to contact us at 913-393-3141 or at info@culturehouse.com. Visit www.culturehouse.com.
GRANDVIEW CHRISTIAN SUMMER CAMP

 (Grandview Christian School and Golden Eagle Preschool)

Come to Birds of a Feather Summer Camp at Grandview Christian School! You won't be sorry you did!

Your students won't want to miss the fun at GCS's Birds of a Feather Summer Camp!
We will have games, activities & educational components as we spend time learning about all things of flight and fancy! And, of course, we will enjoy lots of water days & fun field trips! Camp begins Tuesday, May 31st, and goes through Friday, August 12th.
Along with the 'camping' fun, we will have daily praise and worship, as well as plenty of time to help keep math & reading skills sharp. Your students will thoroughly enjoy all 12 weeks of our summer camp program, culminating with an End of Camp Award Party held at the end of the camp day on August 12th.
We accept students from age 3 through 6th grade (even those entering 7th grade). Camp fees include morning/afternoon snacks, packable lunches, and all field trip fees. Note: Depending on age appropriateness, Preschool age students may not attend all field trips.
Weekly and daily 'drop-in' rates are available. Loyalty Discount applied to students already enrolled at GCS for the 2022-23 school year. Camp day begins at 7:30am and ends at 3:30pm. Extended care hours are available as early as 7am and as late as 5:30pm, for a nominal fee. Registration is just $75/student by May 1st and $95/student after May 1st. Camp t-shirt included in each Registration Fee!
Our staff really know how to engage all the students and make learning an adventure! We are excited to have your student(s) join us for a summer filled with fun & learning at Grandview Christian School's Birds of a Feather Summer Camp!
Camp location this year will be 15608 Fairchild Dr, Kansas City, MO 64147 [inside Blue River Bible Church near the old Richard's Gebaur Airbase just West of the 155th St exit from I49].
For more information visit us ONLINE!