Tim Tebow doesn't seem to be slowing down after hitting a homerun in his first minor league baseball game of the spring season.
"It was just one day. One opportunity – the first of a lot of games," said Tebow.
In true Tebow fashion, the former NFL football player smashed a three-run home run recently during his first time at the plate with the Binghamton Rumble Ponies, a Mets' Class AA affiliate.
This wasn't his first time, of course. The Heisman trophy winner also stole the spotlight last year by hitting a home run in his first minor league baseball game.
While countless people are inspired by Tebow's athletic achievements, they can't ignore his clear love for the Gospel and all things Jesus.
It doesn't look like Tim Tebow is slowing down any time soon and more homeruns are on the way, both on the diamond and off.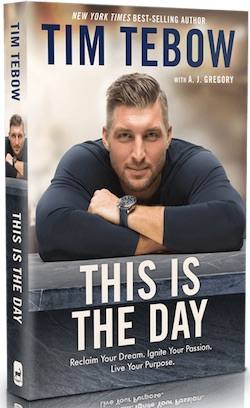 Tebow announced his new book, This is the Day, which was written to encourage people to seize the day and live out their God-given dreams.
"So excited to announce the release of my new book, #ThisIsTheDay! Available at bookstores everywhere Sept. 25th!" Tebow wrote in an Instagram post.
"Imagine when hearing the sound of the morning alarm, instead of groaning or slapping the snooze button, your mind, your heart, and your soul awakens to the possibility. Something better. Something more. Imagine waking up each day fueled by a whisper: 'This is the day.'" Tebow said on his website.
In This Is the Day, Tebow challenges people to stop putting off until tomorrow what God is calling them to do today.
This is just the latest in a series of books the athlete has written, including Shaken, which is a New York Times bestseller and was named the Evangelical Christian Publishers Association's 2017 Book of the Year.
When Tebow isn't hitting home runs, writing books, or appearing on Fixer Upper or helping special needs children and others with his Tim Tebow Foundation, he's simply spreading the Gospel on social media.
And those comments, either about his baseball abilities, or his faith, bring out the social media haters and those who doubt his sincerity in batting for the major leagues.
He has some advice for others.
"It's never as good as it seems. It's never as bad as it seems, right?" he said. "You can go from a first at-bat home run to striking out. Don't get caught up in the little things, the things people are saying when I leave here, and social media, or whatever y'all write — no offense, but I won't read it," Tebow says.
He says he just plugs away, practicing and keeping his focus.
The former Heisman Trophy winner and NFL quarterback says he weekly spends three-to-five days training for baseball, getting himself ready for year two of his pro career in the New York Mets organization.
Tebow, 30, was a good high school baseball player and on track to get looked at by Major League teams until he chose to play football at Florida. He was part of two national title teams with the Gators, became a first-round NFL draft pick and spent three seasons with Denver and the New York Jets. Looking for a challenge, Tebow relaunched his baseball career with a tryout camp in 2016 and was signed by the Mets soon after.
"I think the other thing I really enjoy is I love competing," Tebow said. "So baseball is fun because you get to play every night."
Customers don't have to wait until September to order the book. Preorders are available now.