Ancient practices apparently are alive and well in a supposedly scientific age. More than half of Americans reported interacting with dead relatives through dreams and other means, according to new survey results from the Pew Research Center.
Forty-six percent said the interaction happened in a dream, while 31 percent said it unfolded another way. One-third said they have felt the presence of a deceased loved one, 28 percent have told this person about their lives and 15 percent said they have had a deceased family member communicate with them.
Americans with medium levels of religious adherence and commitment are more likely than those with low or high commitment to report feeling the presence of a deceased family member.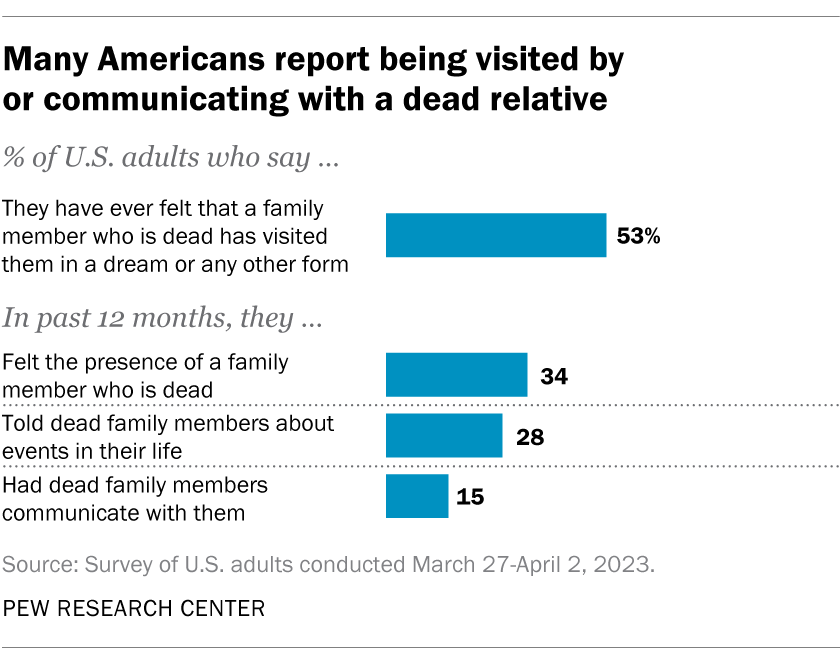 "People who are moderately religious seem to be more likely than other Americans to have these experiences," the survey report said. "This is partly because some of the most traditionally religious groups, such as evangelical Protestants, as well as some of the least religious parts of the population, such as atheists and agnostics, are less likely to report having interactions with deceased family members."
READ: Life and death explored in poignant movie
Just 34 percent of agnostics and 26 percent of atheists report being visited by or interacting with a dead loved one. Meanwhile, 42 percent of evangelical Protestants said the same. These proportions were much higher for historically black Protestants (67 percent) and Catholics (66 percent).
When it comes to gender, more women than men reported having contact. Four in 10 women said they felt the presence of a deceased loved one, while only 27 percent of men said the same. Thirty-six percent of women said they had spoken with a deceased loved one, compared with 21 percent of men. Finally, 19 percent of women confirmed they had received communication form a loved one who had died, while 12 percent of men said the same.