Mental illness is rarely a matter of being just fine on one hand and asking your filing cabinet out to tea on the other. Sure, sometimes the answer's easy, obvious. But often, it's not so simple to define. And sometimes, it depends on who's defining it. That's part of what is tackled in "Where'd You Go Bernadette," a thoughtful film based on the book by the same  name (see info at end of article) that is part mystery, comedy and touching family drama.
Ask Bee, the daughter of Bernadette Fox, about her mom, and she'll emphatically tell you that her mom is just fine. Oh, certainly Bernadette's a little eccentric, a bit high-strung and (let's just say it) pretty antisocial. But when they're together, they joke and laugh and sing their hearts out to old '80s tunes.
Bernadette may not be perfect, but she's Bee's best friend. Nothing crazy about that, is there? "I love Mom just the way she is," she says.
RATING: PG-13 CAST Cate Blanchett as Bernadette Fox; Billy Crudup as Elgie; Emma Nelson as Bee; Kristen Wiig as Audrey; Zoe Chao as Soo-Lin; Judy Greer as Dr. Kurtz.  DIRECTOR: Richard Linklater. DISTRIBUTOR: Annapurna. IN THEATERS August 16, 2019. REVIEWER Paul Asay
Elgie, Bernadette's wealthy, brilliant husband, loves her too. But he remembers the woman she once was—and who she's now become. And that worries him.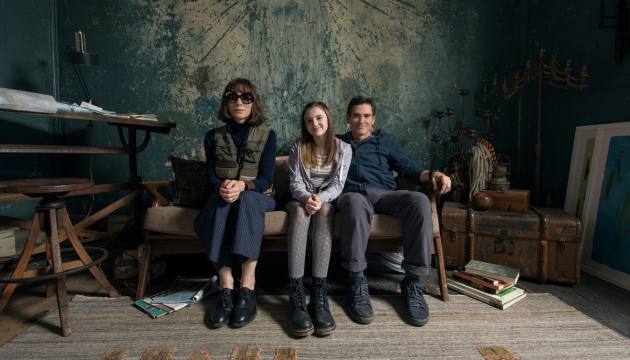 Bernadette was once a gifted architect—one who set the profession on fire and seemed destined for greatness. But Elgie's fasttracked career at Microsoft, a crushing professional setback and family issues pushed Bernadette in a different direction. She hasn't designed a building in years.
Now Bernadette barely sleeps. She stalks the halls of their sprawling Seattle house in the gloamy hours, letting worry upon worry stack like LEGOs. She stopped taking most of her medication a while ago. Now she pours the pill in one massive bottle, marveling at their colors.
And things seem to be getting worse. Elgie gets a police report about how Bernadette ran over a neighbor's foot. He spies her in a pharmacy, passed out on a couch inside. He listens to her rant about Seattle's litany of evils, fume over small slights. The confident, beautiful woman he married has become brittle and confused. She's gone wrong somehow, and he needs to figure out how to make it right again.
One night, Bee reminds her parents of a promise they made years ago: If she got straight A's through middle school, they'd give her anything she wanted. Now, Bee announces, she wants to take a family trip to Antarctica.
Bernadette is horrified. She hates travel. She despises boats. She's terrified of getting seasick. Why, she barely leaves the house as it is. The thought of traveling to Antarctica, by boat, in rough waters, with a bunch of strangers? "I'm not good when exposed to people," she admits.
But Bee desperately wants to go, and Bernadette desperately loves her daughter.
But will she survive the trip? Will anyone else?
I didn't have high hopes for this movie, which is based on a 2012 novel of the same name by Maria Semple. On the surface, it looked as though Bernadette would be locked in a well-worn storyline of me-focused rediscovery—a plot that today often involves sacrificing family and duty for self-fulfillment. And indeed, one of the movie's trailers specifically suggests as much.
"I think what happened to my mom was that she got so focused on her family that she forgot about herself," Bee tells us.
That line, though, is nowhere to be found. Instead, the film begins with Bee telling a very different story—how we humans are wired to always look for the next great thing. We buy a diamond necklace (Bee says) and it gives us joy. A year later, you look at it and say "this old thing."
"I think that's what happened to my mom," Bee says. "She forgot to see all the good stuff in her life."
That sets us up for a far different, and far more nuanced, movie. Yes, rediscovery of self is still a huge, and central, part of this story. But Bernadette's discovery is done in the context of a family who loves her—and a family that she loves in return. This is a story about the war that most of us feel—that quiet battle between passion and duty; the tension between what we feel we're called to do and what we're asked to do.
The film reminds us that we're built with certain talents and gifts. And even though it doesn't explicitly stress our Builder—the God who gave us those gifts to glorify Him and enrich others—it does remind us that we waste those talents at our peril. We see how Bernadette's struggles are largely born from her inability and unwillingness to embrace the gifts she's been given.
"People like you must create," an old architect friend tells Bernadette. "If you don't, you become a menace to society."
But we don't use those skills in a vacuum. And for many of us, our gifts and talents are sometimes sublimated beneath the responsibilities and relationships we develop through life. Other times, the gifts we have become opportunities to glorify ourselves, not God. Through all, the film suggestions, our families and friends—and the responsibilities they entail—keep us grounded. They remind us what life and purpose really should be about: sacrifice and service and loving well.
And even as Bernadette rediscovers her love for architecture, she doesn't lose sight of the people she loves. Yes, she's been given great gifts … and the greatest, she knows, is her daughter.
Where'd You Go, Bernadette, isn't about choosing career over family, or choosing family over career. It's not, I don't think, about punting traditional gender roles (though some viewers, admittedly, could interpret it as such). Instead, this drama tells us that we were made for something. And when we find and pursue that purpose, we're better able to serve the people around us.
The film has its problems. But underneath, it reminds us of the importance of our God-given gifts … and the people who are closest to us as well.
–Metro Voice is a Amazon Affiliate. When you visit Amazon through a link in our articles you are helping support our faith-based Journalism.
Check out the book below.