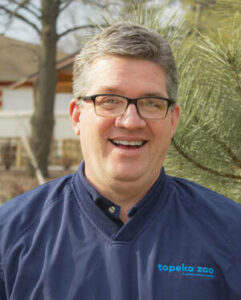 Brendan Wiley, director of the Topeka Zoo since 2010, has left to take a new role at a zoo in Waco, Texas.
"We are deeply grateful for Brendan's leadership and his dedication to the Topeka Zoo and our entire community," said Fred Patton, board president of the Topeka Zoo. "His tireless efforts have helped shape our zoo into the vibrant and respected organization it is today. We will long reflect upon Brendan's tenure as a transformational period that enables our zoo to flourish for decades to come. While we are saddened by his departure, we wish Brendan the absolute best with his new position at the Cameron Park Zoo in Waco, Texas."
When Wiley took over, the zoo was in turmoil after several animals died and management problems were in the news.
Wiley started projects to raise money to expand exhibits and create new ones over the years, including Giraffe and Friends, the Kay McFarland Japanese Garden,  and Camp Cowabunga.
There have also been several popular fundraisers at the zoo, including Brew at the Zoo and the Zoo Lights attraction under Wiley's direction. The Zoo also hosted many notable spring and summer exhibits, such as Penguin Plunge, Alligator Frenzy, Sea Lion Splash, Saving Sharks, and most recently Dinosaurs Alive!
The Topeka Zoo and Conservation Center has named Fawn Moser as interim Chief Executive Officer of the Topeka Zoo. Moser has been a dedicated employee of the Topeka Zoo for nearly four decades. With her extensive experience in zoo management and animal care, Moser is well-prepared to take on the role of interim CEO. Her passion for the Topeka Zoo is unparalleled and her commitment to the welfare of the animals in the zoo's care has been evident throughout her distinguished career.
"Fawn has been an integral part in the zoo's recent achievements and will provide strong leadership during this transition," said Fred Patton, Board President of the Topeka Zoo. "We thank Brendan Wiley for his dedication and look forward to working with Canopy Strategic Partners to find a permanent CEO who will continue to build upon the zoo's successes."
The search for a permanent CEO is underway, and Canopy Strategic Partners, a leading executive search firm, has been engaged to manage the selection process. Canopy Strategic Partners is working closely with the Topeka Zoo's Board of Directors to identify the best candidate to lead the organization into the future.
Pictured is Fawn with then newborn giraffe, Hope. Hope was born in July 2010 with hyperextended fetlocks, and required special care and casts on both front legs until her gait was corrected. Hope can now be seen as an adult at Giraffe & Friends.
-Lee Hartman | Metro Voice




Can You Help?

As you read our articles and notices of events, don't forget the advertising that the Topeka Metro Voice relies on for survival. For 16 years, Topeka Metro Voice has been a leader in community and faith-based news. We have historically relied on advertising to fund the mission of our publication and sharing the Good News, as well as supporting local small businesses and community events.

We are now seeking partners who want to support our publication and our mission of faith-based journalism and supporting the community and local small businesses.

Do you like what you read here? Help us continue our mission by supporting the Topeka Metro Voice in print and online for as little as $5. Every contribution counts, big or small. We sincerely thank you for your continued support and encouragement in these critical times.