The best new series on Amazon Prime Video is a crime drama full of brilliant sleuthing and police investigations.
But — surprise, surprise — there is not a curse word or mega-violent scene in it.
The 10-episode series, called Vindication, premiered in August and tells the story of a detective named Gary Travis (Todd Terry) as he tries to solve crime in a small Texas town.
But unlike other crime shows, which focus on who committed the crime, Vindication gives us a unique spin by spotlighting characters who were wrongly accused — even though all the evidence is stacked against them.
There's another surprise with this series: It's faith-based, but not in the traditional sense. In Vindication, faith plays a minor role in some episodes and a major role in others.
It also differs from popular Christian entertainment in that it deals with adult themes (sexting, for example), yet not in an explicit way. Most parents with teens (and perhaps tweens) would consider the plots family-friendly. That's because the stories are redemptive.
READ: 5 Family Things for September
Vindication has familiar faces to Christian audiences: Emma Elle Roberts (Unplanned) plays the detective's daughter. Masey McLain, who played the lead role in the faith-based movie I'm Not Ashamed, is featured in an episode, too.
Terry, who has appeared in such mainstream films as Five Feet Apart, is outstanding as the detective.
Vindication began streaming on the Prime Video platform in August.
You can support Metro Voice at the end of the story as we are an Amazon Affiliate.
Also streaming this month:
Adults/teens
Victoria, Season 3 (Amazon Prime) — It's the story of Queen Victoria, who ascended to the throne at age 18 and reigned in Great Britain during the 1800s. In the newest season, which originally aired on PBS, she confronts challenges at home and abroad. Season 3 isn't as family-friendly as the first two seasons, so have the remote handy. Sept. 3.
Lord of the Rings films (Netflix) — The first film in the franchise, The Lord of the Rings: The Fellowship of the Ring (2001), entered the Netflix lineup earlier this year. This month, the next two films — The Lord of the Rings: The Two Towers (2002) and The Lord of the Rings: The Return of the King (2003) — have their Netflix debut. All are rated PG-13 and are based on J.R.R. Tolkien's novels. Sept. 1.
You've Got Mail (Amazon Prime) — Tom Hanks and Meg Ryan star in this 1990s film about an email romance. No, it's not as family-friendly as a Hallmark movie, but it's not a trash-fest like other romantic comedies, either. Adult themes involve living together before marriage. Rated PG for some language. Sept. 30.
Emma (Hulu) — A young woman named Emma Woodhouse (Gwyneth Paltrow) excels at playing matchmaker for others — but fails miserably at finding love for herself. It's based on a Jane Austen novel and is largely family-friendly. Rated PG for brief mild language. Sept. 1.
Children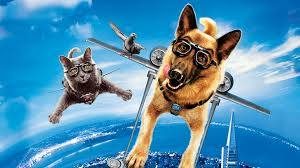 Cats & Dogs: The Revenge of Kitty Galore (Netflix) — Dogs and cats team up to fight evil in this live-action film. It has slightly more potty humor and name-calling than I wanted, but my children enjoyed it. This 2010 film is rated PG for animal action and humor. It entered the lineup in recent weeks.
AFV (Hulu) — American's Funniest Home Videos, which has been on a summer hiatus, returns to Hulu this month with new episodes in what is its 30th season. It's a favorite in my home. Sept. 30.
Open Season films (Hulu) — These animated movies tell the story of a bear named Boog, and all four of them enter the Hulu lineup: Open Season (2006), Open Season 2 (2009), Open Season 3 (2011) and Open Season: Scared Silly (2016). They include potty humor. Sept. 1. Note: The first Open Season (2006) is also on Netflix.
Michael Foust | metrovoicenews.com.  Faust has covered the intersection of entertainment and faith for 15 years.