Forgiveness. The unimaginable. We can all relate to being forgiven, asking someone for forgiveness, and waiting to be forgiven. It's a surprising and potent message that wraps up the Broadway production of "Hamilton."
The production, which has won 11 Tony Awards, opened in Kansas City this week (through July 7), ending months of anticipation for regional theater goers.
I remember watching CBS This Morning in 2015 when it was virtually Hamilton 24/7. Charlie Rose, Nora O'Donnell and Gayle King seemingly droned on and on, day after day, week after week, about the musical, "Hamilton." Surely, I thought, something else was happening in the world. Dwight and I were sure they were being paid for their promotion.
When I finally saw Hamilton a year ago I understood. You will too. I want you to see it.
Hamilton tells the story of an ambitious and brilliant man who experienced his mother's death, a terrible hurricane, and poverty. The young orphan throws himself into work and becomes a self-educated entrepreneur. While describing him as an immigrant to play on modern headlines, in reality Hamilton was a Scotsman who simply moved from one British Colony (West Indies) to another – the American Colonies. Think moving from New York to California to look for a job.
As a now successful business man and political outsider, he rises to power in the nation's capitol and is hated by political insiders for his often rude comments and less than tactful writings on the Twitter of the time–the daily tabloid newspapers. Newspapers ran false stories and cabinet officers leaked information about him that were later found to be untrue. In once instance his political enemies confronted him with what they thought was evidence of unconstitutional use of treasury funds to pay off a lover. Hamilton showed them his checkbook to prove otherwise but the issue dogged him in the media and the enemies never gave up – leaking the already disproven allegations to the press. Sound familiar?
The story includes all this as it recounts our country's early history with all the key players that theatergoers will enjoy. Hamilton, played by Joseph Morales, is an iconic figure with devastating flaws and raw ambition. He easily breaks most of the 10 Commandments, and that is where forgiveness comes into play. Hamilton is funny, touching and at times, for a family audience, a bit too profane.
Morales' interpretation of the character is perhaps more believable than that of Miranda's peformance on Broadway. The younger Morales brings an air of innocence and wonder as a younger Hamilton, as well as youthful vigor to the role – something that lacks in other actors who play the same role.
Other strong performances are rounded out by Desmond Sean Ellington as George Washington and Nik Walker as William Burr. Walker's "The World is Wide Enough" should be an anthem for today's divided political climate. The song laments that the there should have been room for opposing views without resorting to violence. It was Burr, a Democrat, who shot and killed Hamilton, a member of the Federalist Party, the precursor to the Republican Party.
Throughout the production, a recurring refrain is "I am not throwing away my shot." Hamilton sees that as his driving force and the power behind his ambition. Like many British colonists, he fights for independence from Britain in the Revolutionary War. But his ambition ensures he rises in the ranks and becomes General Washington's right hand man. He goes on to become the first Secretary of Treasury of the young nation.
Hamilton is inspired by author Ron Chernow's tome Founding Father Alexander Hamilton. If it were not for a last minute decision by the show's creator, Lin-Manuel Miranda, it might never have been created. Miranda says he grabbed this book on his way out the door as he and his family left for vacation.
That decision has changed Broadway.
Hamilton has done today what big productions in the 90s did. It has re-energized musical theater and introduced the art form to a new generation with lyrics and musical styles new to the form.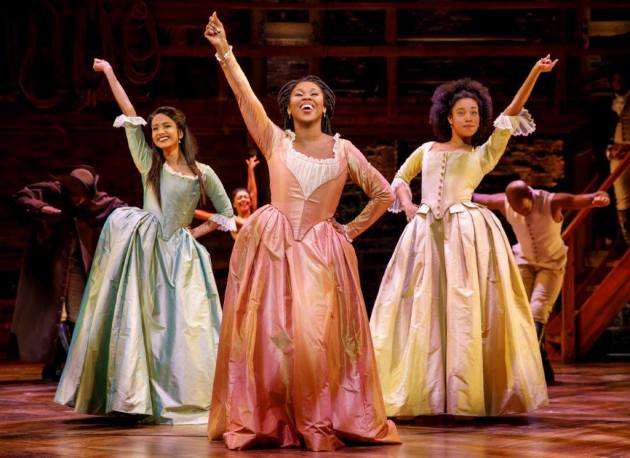 Miranda wrote the music and lyrics, uses rap, jazz, blues, R&B, hip-hop and ballads to tell Alexander Hamilton's life.  Washington, Lafayette, Jefferson, Burr, Madison and Hamilton speak in today's language – rather, the language of the street. The cast is refreshingly ethnically diverse.
The choreography quickens the pace of a production already in a frenzy. And before you know it, the production is over.
This is a musical where all the characters are developed to be independent and allowed to tell their own stories. King George as a "small man," is memorable as a comical, quirky, and tyrannical despotic ruler. The character received the most favorable reaction from the audience of any on stage.
Hamilton's wife Eliza, played by Erica Clemons, elicits great emotion from audience members as she first deals with the infidelity of her husband and then the death of her oldest child. Her act of forgiveness is a powerful statement.
Eliza's sister Angelica, played by Emily Jenda, expresses a love and loyalty for her sibling that only a sister can. As a quasi narrator through song, she gives one of the evening's most powerful performances in "Helpless."
Hamilton is, for most people, that "once in a lifetime" outing. It is an expensive date for those on a Dave Ramsey budget. Our family decided to combine birthday and Christmas gifts into one gift to attend the production last year. It was a decision agreed upon by all – including my new son-in-law. The personal benefit of that decision for me was a way to overcome the difficulty of shopping for young millennials. When the curtain call ended, I turned to see tears of enjoyment and appreciation of a great production in both my daughters' eyes. Very few gifts result in tears of joy. Experiencing it with them was a great gift.
"Hamilton" is that good.
"HAMILTON" performs at the Music Hall, 301 West 13th St., Kansas City, MO 64105 through July 7, 2019. Tickets through Ticketmaster and Box Office (816) 513-5000. Music and lyrics by Lin-Manuel Miranda, Direction by Thomas Kail. Choreography by Andy Blankenbuehler. Musical supervision and orchestrations by Alex Lacamoire. Running time: 2 hours 30 minutes