Towards the end of March, Topeka Metro Voice invited local small business owners to contact us with their stories of how the pandemic is affecting all of us small Topeka businesses. We asked for details about their Topeka businesses, the ways they have been affected, and what other Topekans can do to help them weather the storm.
Following are some of the responses we received. The information and advertising in this article are offered to these local small businesses without charge as our way of trying to help.
Nancy Clasemann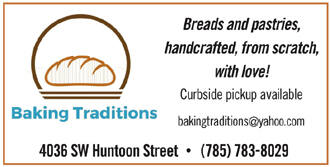 Baking Traditions
4036 SW Huntoon in Gage Village
785-783-8029
https://baking-traditions-llc.square.site
Baking Traditions is a bakery specializing in breads and pastries, handcrafted, from scratch, with love.
Because of the pandemic, we are seeing a slow-down in traffic.
We are offering contact-less curbside pickup on Thursday, Friday and Saturday between 10am and 1pm for pre-orders of select breads, flour, and select pastries.  Orders must be placed by 11am the day prior so that we can efficiently prepare the doughs and plan staffing.  Orders can be placed by phone, FB message, or on our website. We are also selling e-gift cards on our website.
Deb Johnson, BCTMB
Stillpoint Massage & Bodywork Studio
2709 SW 29th St.
785-220-7805
stillpointbodywork95@gmail.com
facebook.com/stillpointbodywork
Stillpoint Massage & Bodywork Studio is a small business that provides massage and bodywork services. We have been in business for almost 15 years, and I have been a Massage Therapist for 25 years.
Our business has been gravely affected by Covid-19. Due to the mandate, we have had to completely shut down. Since we are all self-employed here, none of us will be making any income while the mandate is in place.
How people can help:  we have implemented our Mother's Day Gift Certificate Special early:  Purchase three 60-minute Gift Certificates, and receive $5.00 off each. People can go to PayPal and use our email: stillpointbodywork95@gmail.com or call me on our business mobile phone at 785-220-7805. I will gladly answer any questions you may have. People can also visit our website: www.stillpointbodywork.com to find out more information about us.
Dave Horn
Donaldson's Jewelers
902 N. Kansas Ave. in NOTO
785-273-5080
Donaldson's Jewelers is a family owned, full line jewelry store and repair shop.  I am Dave Horn, the new face of the store since Dan Donaldson's retirement from the jewelry business.  In 2019, we decided to become a part of the exciting arts scene in NOTO.  We pride ourselves on quick, quality repairs, usually overnight!  Our great customer service is the most important facet of what we have to offer, and we look forward to reopening soon!
Since the stay at home order was announced, our showroom is temporarily closed.  We look forward to seeing everyone again when this is over.
We have launched a new website, www.donaldsonstopeka.com, that has an online store so items can be purchased online and delivered.  From jewelry to watches to Hal McBee knives, much of what we sell is online.  The other major facet of our business, custom jewelry, will be a little more challenging to do virtually, but we would like our customers to know that we are still here and will help in any way we can.  We have added our new Enhanced Gift Card promotion to the website.    The gift cards can be purchased online and then used online or held until we open back up to pay for future repairs or custom work.  The gift cards cost 10%-35% below their marked value, benefitting everybody!
Lori Welch
Personally Yours
785-357-0090
Personally Yours is a home-based business specializing in personalized candy bars, gifts, accessories and promotional items for any occasion.
Springtime between mid-April to mid-May is our second busiest time of year with events such as Easter, 1st Communions, Administrative Professionals Day, Teacher's Day, Nurse's Day, Mother's Day and graduations to keep us busy.   With many religious organizations, schools and events being closed or postponed this has limited the number of celebrations or "Thank You"s we are able to make favors or gits for.
Suggestions on ways you can help us:  For Easter, consider giving a child a personalized story book with their name.  Personalized candy bars are only $2.00 each and can always sweeten someone's day.   Consider them for your special administrative professional, teacher or nurse.  Perhaps maybe even consider some miniature "Thanks a Million" bars to carry with you to give to those delivery drivers, store clerks, medical professionals, etc., who are out there working for us.  It is still important to keep your name in front of your customers.  We can help you select affordable promotional items to put your logo on, like micro fiber cloths to keep your phones and computer screens clean, hand sanitizers and more!  Retail stores also have options for signage, distancing floor decals and for the restaurateurs' insulated delivery bags.  Of course, referrals are always welcome.  As mentioned, we are a home-based business and can arrange to have your products delivered.
Brenda Wockenfuss
Grandma Wock's Catering & Eatery
5331 SW 22nd Place, in Fairlawn Plaza Mall
785-272-2255
facebook.com/Grandma-Wocks-Catering-Eatery
Grandma Wock's was founded by, and still is being operated by, a grandma that learned to cook from her grandma.  Everything is made from scratch grandma's way.
We lost all of our catering business with the order not to have groups of people.  We are limited to take-out only.
We are still open and will remain open as long as sales support the employee's payroll.  If you need or want something, we can most likely do it!
Heather Riniker
Orange Blossom Room
5648 SW 29th St., inside of the Halo Room
785-477-4411
facebook.com/heather.danielle.riniker
I'm an independent cosmetologist just out here trying to build confidence and encourage self-love!
With the pandemic, it's created a major slow-down in business, as we have direct contact through almost the entire service. People are keeping their distance.
People could be of help by spreading the word to your friends/family about me so we can grow together! You can purchase your hair care products from me and I will personally deliver curbside or personally to you, or even mail it if you'd like! Also, with each $50 in credit purchased (on a virtual gift card) you get $10 off your service! Payment offered through PayPal: heatherdanielle84@gmail.com.
Kimberly Mattox
Diner 24
2134 N Kansas Ave.
785-408-1211
I am the owner and operator of Diner 24, located just off Highway 24 and N Kansas Ave. We are family owned and operated, and opened October 1, 2018. We typically employ up to 8 employees, four of which are family, including my two adult sons.  We pride ourselves in our homemade, always fresh, amazing breakfast and lunch. We are well known for wanting to serve and give to our community every chance we are able to serve.
The plunge of our business stability has been nothing less than astronomical since the COVID-19 epidemic. We have made as many changes as we physically and financially can to accommodate our Diner 24 family and community with the attempt to just "keep our doors open." We have had to reduce employees' hours drastically, along with our business hours and taking some of our "favorites" off the menu to reduce waste and cost. We are serving drive-thru and curbside and attempting to come up with delivery options as we were extremely unhappy with our third-party delivery services and discontinued them.  We are not exactly equipped for drive-thru as we do not have a menu board outside but we are making the best out of what we still have. I am running outside with menus, taking orders, running drinks out and collecting payment, then running food out to each vehicle trying be the most efficient we can be in serving our Diner 24 families in the most timely manner possible. Diner 24 wasn't designed to be a "fast food" drive thru simply because we make everything fresh and made to order! I refuse to lower our quality of food and services by pre-cooking hamburger patties, or homemade French fries etc.
How can people help? That's a great question. It is going to take a miracle from God for any businesses the size of mine to recover from this economic disaster. I personally believe in God very strongly and am believing for a miracle! The following are just a few things I could predict would help:
Prayers
Financial assistance to continue to pay the rent, bills, overhead, etc.
Free advertising, including a billboard, signs, etc.
Purchase of Gift Cards
Volunteer staff
Food donations from suppliers
Andrew Walker
Solid Rock Sound Machine
785-266-5273
info@solidrocksoundmachine.com
facebook.com/SolidRockSoundMachine
My name is Andrew Walker and my wife and I own the Solid Rock Sound Machine DJ Company. We are celebrating over 30 years in business! Our business provides music and assistance for almost any event that a person can think of. We have done Weddings and Receptions, Car Shows, Anniversary parties, store openings, birthday parties and more. We are actively involved in many non-profit organizations with sound and music support. We have provided sound support for some major events over time and are glad we did!
All this came to a screeching halt when the Corona Virus hit! To begin with, the group numbers for events were lowered. Some of the major venues have closed, so there is no way we can be there! County facilities are now closed as well, which has cancelled at least 3 events we would do and a few weddings as well! At last count we have lost 7 celebrations and over $1500 in revenue. We have been put on hold until this virus passes! We have to renew our website and all the tools that go with it, we have to pay insurance, taxes, and several fees to maintain our business that need to be paid whether we have business or not. We also have to pay federal taxes and it will be tough to do all of that! We have mortgage payments, and truck payments as well.
As far as what can Topeka do to help, I have a few answers:
Pray for us
Hire us for your next event when this all passes
Find a reason to hire us! Thank you for time and consideration.
Jamie Tast-Pasley
Tshirts ETC
923 SW Fairlawn Rd.
785-273-7444
I am Jamie Tast-Pasley, customer service here at Tshirts ETC, and my boss is Joe Glotzbach. We are located at 10th and Fairlawn.  We are a small business, just 5 employees and our boss, Joe!  We are a screen print and embroidery company and are printing shirts for all of our businesses here in town.
Since school events have been canceled, we have lost prom business, school sports business and lots of community events with promo t's.  We are trying to stay afloat like every other business.
We are offering our 10 for 10 Special: with 10 or more shirts they are $10.00 apiece with a $10.00 setup fee for a 1 color screen print on 1 side of the shirts. We have some 'Small Business Strong' shirts we are printing for sale along with our 'Keep Calm and Social Distance' on shirts for sale.  They are $10.00 per shirt plus tax and are made to order.  You pick your color and size!
You can purchase gift certificates to use in the future for ball season, family reunions, school events and so many other functions where you may need custom screen-printed shirts.  We are OPEN and are cleaning our work space to be safe and clean for our customers and ourselves.  Hours are Monday – Friday 9-5:30pm and Saturdays 9-11am!
Jason Brown
A&J Home Repair
785-506-2444 – Text or Call
A&J Home Repair specializes in everything from smaller honey-do projects to bigger construction projects, including Remodels, Plumbing, Electrical, HVAC, Decks, Windows, Fencing, Custom building & Creating, Tiling, Flooring, Welding, etc. We do free estimates and we are licensed and insured. Our top priority is our customer satisfaction.
Most customers have postponed jobs they've wanted done, meaning work is slowing down for us.
We are a 2-man crew, use protective precautions, and clean up after ourselves, ensuring the clients & our own safety, and would love your business. We are still able to do so many jobs, and if you are worried about keeping your house clear of people outside your family, we also do several outdoor projects such as decks, pergolas, etc.!  It's a great time for house improvements & A&J Home Repair is here when you need us! Please check out our Facebook page to see examples of the projects we do! Text 785-506-2444 today to schedule your free estimate!
Leslie Fleuranges
Tender Loving Care Pet Nursing Hotel
2500 SW 17th Street
785-329-6141
Leslie@ TLCpetnursinghotel.com
TLCpetnursinghotel.com
I am the Owner and Comforter-In-Chief of Tender Loving Care Pet Nursing Hotel here in Topeka. TLC Pet Nursing Hotel is a daycare and overnight boarding hotel for elderly, sick, recovering and transitioning cats and dogs.  We also offer chauffer service, euthanasia and bereavement counseling.  We provide 24/7 service so your pets are never left alone at night and all pets are housed in luxury suites, in luxury bedding.
TLC Pet Nursing Hotel was scheduled to open to the public on Monday April 6th, but due to COVID-19 we decided that it would be safest for our employees to wait until the danger has passed. The idea of taking on additional working capital debt in this economic environment does not seem prudent.
We hope to open in May or June…so if folks would be willing to make a reservation for their cat or dog beginning in May at tlcpetnursinghotel.com and click on MAKE A RESERVATION, that would be great!  We would also like to get connected to local assisted living facilities, nursing homes and hospices here in town to assist those folks who may need to have their pets cared for if they need to travel, go into the hospital, etc.  Thank you!
Derek Rowe
Modern Woodmen
1415 SW Topeka Blvd, Suite 12
785-817-6881
https://reps.modernwoodmen.org/drowe
My name is Derek Rowe. I am a financial advisor with Modern Woodmen. I help individuals, families, and businesses plan for a secure financial future. Working together, I can help you develop a personal financial strategy unique to your needs and goals. My role is to help you: • Define your goals and objectives. • Assess your current financial situation. • Create an affordable plan that will grow with you in the future. • Help you get started and then review and adjust your plan over time.
During the pandemic, the way of doing business has drastically changed. I was used to doing almost all of my meetings face to face. I enjoyed being in the same physical space as our members. Now, things are 100% virtual. I am leveraging technology as a medium to continue to provide great service.
I desire to continue to help individuals, families, and businesses through this time by offering complimentary needs analysis. There are many who have lost their jobs and consequently lost their work-provided benefits. I can help discuss options for those people. I can help those who were counting on their 401(k) or small business for retirement. If there is anyone who is unsure of their financial plan going forward, I'd love to be a resource to help talk through planning options.
*********
Metro Voice welcomes stories and ideas from others on how we can come together as a community and help each other. What have you done to help? What have you seen others do? What are your ideas?
We welcome Topeka businesses and others to continue to contact us via email, voice@cox.net, or by posting on our Facebook page, so that we can continue to share the stories and ways to help each other.
We welcome paid advertising from other businesses who are doing well and want to help, and are very much appreciative of those who continue to advertise with us. That is what makes the free Metro Voice possible. Some of the businesses represented have offered to purchase advertising, as have some other businesses in the area that want to help. We want to work with everyone and any kind of budget to help us all get through this.
–Lee Hartman | Metro Voice
Go here to visit the Topeka Metro Voice Facebook page for local event notices, breaking news and local announcements. To help us spread the word, and to continue seeing our posts on your Facebook feed, "Like" the page and then like or share a story now and then, so that they will keep showing up in your feed.