For years, the Northeast has lost a steady stream of residents to other parts of the country. New data suggests that trend has recently accelerated.
The Census Bureau's Current Population Survey released late last month shows the region lost a net total of 352,000 residents from domestic migration for 2017-2018. That represents the highest tally since 2004-2005. It also marks the Northeast's third consecutive year of losing at least 200,000 residents.
Nationally, migration remains at historic lows. Those who have moved traveled relatively short distances. Americans migrating larger distances generally offset one another — except in the Northeast.
What's happening in states like New Jersey and New York stands in stark contrast with the Midwest, the other region that's historically sustained migration losses. Roughly equal numbers of Americans moved out of the Northeast and Midwest last year. But the Midwest welcomed far more people from other parts of the country, recording a net loss of only 38,000 over the year, not including migration from abroad.
In Kansas, 56.7% of people that moved, did so to another state. But less than 2,400 Kansans migrated out of state and the state actually saw its population increase by almost 60,000. In Missouri, just over 2,100 people migrated out of state. But Missouri gained 55,000 new residents. Both pretty strong numbers compared to the Northeast.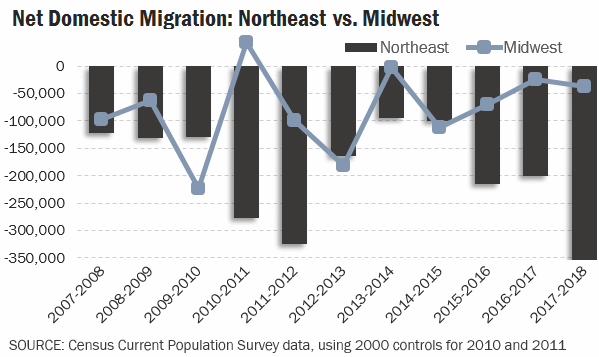 The gradual exodus has been most apparent in New York. Previously released Census Bureau figures suggest its domestic migration losses were the worst of any state in the region last year and, according to a Cornell University analysis, were the highest since the mid 2000s.
New York City is responsible for the bulk of the negative domestic migration. The Cornell analysis suggests it lost a net of 143,000 residents to other states (including those in the Northeast). If it weren't for international migration, the city's total population would be declining.
Cornell University demographer Jan Vink says part of the reason the city is losing residents is that younger families are moving into the suburbs. Nationally, Americans have flocked in greater numbers to suburban areas in recent years.
Out-migration could further increase, says Vink, as more baby boomers start to retire. As it stands currently, it's not retirees who are driving the steep migration losses. Residents age 65 and over accounted for only about 8 percent of out-migration from the Northeast.
Most of the region's remaining losses occurred in New Jersey, which registered a net loss of 57,000 residents to other states over the 12-month period ending last summer. According to a recent report by the think tank New Jersey Future, millennials in particular were leaving the state.
In Connecticut, a state Office of Policy and Management report published last year also found mounting numbers of residents were leaving, with net-migration losses climbing 55 percent since the mid-2000s. Similar to New Jersey, out-migration has been most pronounced among the state's younger adults, ages 22 to 29, and those 65 and over.
Massachusetts and Pennsylvania shed similar numbers to elsewhere in the country.
One state where migration patterns are headed in the opposite direction is New Hampshire. It continues to record modest population gains from other parts of the country after experiencing little changes up through 2012. A University of New Hampshire report published earlier this month attributed the shift largely to an influx of children and young adults. More than 1,000 adults in their 20s now migrate to the state every year — up from an average net loss of 1,500 between 2008 and 2012.
The Northeast is unique in that it's the only region that lost more employed workers than it gained. The majority — about 58 percent — of former residents leaving were of prime working ages, from 25 to 64 years old. That's about the same, however, as other regions with the exception of the West, where children account for more of the losses.
Where Northeasterners Are Moving
The overwhelming majority of Northeasterners leaving the region headed south. Of the approximately 600,000 who left, an estimated 412,000 moved to the South.
A major spike in movement to the South occurred across other regions as well over the 2017-2018 period. The region's net migration topped a half million, its largest annual tally recorded in the Current Population Survey since at least 1980.
The top destination for Northeasterners leaving the region was Florida. The Census Bureau's 2017 American Community Survey suggests all parts of the Northeast, with the exceptions of Maine and Rhode Island, lost more residents to the Sunshine State than they received. More New Yorkers, in fact, moved to Florida than to neighboring New Jersey.
| State | Net Migration | To Florida | From Florida |
| --- | --- | --- | --- |
| Connecticut | -4,660 | 11,249 (+/-2,621) | 6,589 (+/-1,608) |
| Maine | 99 | 2,960 (+/-1,441) | 3,059 (+/-1,360) |
| Massachusetts | -6,713 | 18,212 (+/-3,608) | 11,499 (+/-2,214) |
| New Hampshire | -3,401 | 5,887 (+/-1,995) | 2,486 (+/-996) |
| New Jersey | -18,854 | 27,892 (+/-5,178) | 9,038 (+/-2,342) |
| New York | -35,577 | 63,722 (+/-7,787) | 28,145 (+/-3,682) |
| Pennsylvania | -11,413 | 28,507 (+/-4,070) | 17,094 (+/-3,046) |
| Rhode Island | 751 | 3,259 (+/-1,793) | 4,010 (+/-1,539) |
| Vermont | -1,171 | 2,816 (+/-1,217) | 1,645 (+/-901) |
Some of the other most frequent destinations for those vacating the Northeast include California and North Carolina.
Why They're Moving
Americans relocate for a number of reasons. Current Population Survey data for 2015-2017, while subject to high margins of error for individual states, provide some clues.
In New Jersey, for instance, family motives loom large. An estimated 15 percent cited a change in marital status as the reason for leaving — a higher share than any other larger state.
Americans most commonly relocate further distances for work-related reasons. About 30 percent of those moving out of Massachusetts, New Jersey and New York cited a new job or transfer, while the percentage in Pennsylvania was higher.
Housing remains a major consideration in much of the Northeast, particularly in New Jersey and New York. Survey data suggest it's not the pricey real estate market that's to blame, as just a small percent of former residents cited cheaper housing. Rather, more people leaving New Jersey and New York did so because they no longer wanted to rent or desired "new or better housing."
Many suspect the relatively high tax rates throughout the Northeast are also driving people away. Research, while mixed, generally suggests the effects of state tax rates on migration are negligible. The survey questionnaire, however, didn't include tax considerations as a response option, and only a small number of movers cited "other" reasons.
This table shows estimates for some of the top reasons cited for leaving a state. Figures refer to percentages of all former residents moving out for each reason.
| State | Change in marital status | To establish own household | Other family reason |
| --- | --- | --- | --- |
| Massachusetts | 4.8% (3.0-7.7%) | 4.1% (2.5-6.8%) | 16.5% (13.0-20.7%) |
| New Jersey | 14.5% (10.4-19.7%) | 5.7% (3.3-9.7%) | 14.9% (10.8-20.3%) |
| New York | 5.9% (4.3-7.9%) | 8.5% (6.6-10.8%) | 13% (10.7-15.8%) |
| Pennsylvania | 3.7% (2.2-6.3%) | 1.6% (0.7-3.6%) | 14.1% (10.8-18.1%) |
| State | New job or job transfer | Housing-related reasons | Change of climate |
| --- | --- | --- | --- |
| Massachusetts | 29.8% (25.2-34.8%) | 21.6% (17.6-26.2%) | 3.3% (1.9-5.8%) |
| New Jersey | 29.2% (23.6-35.6%) | 23% (17.9-29.0%) | 4.2% (2.2-7.8%) |
| New York | 31% (27.6-34.6%) | 23.1% (20.0-26.4%) | 2.2% (1.3-3.6%) |
| Pennsylvania | 43.8% (38.7-49.0%) | 15.7% (12.3-19.8%) | 4.1% (2.4-6.7%) |
About the data
All numbers refer to only migration occurring within the U.S., not from abroad. This report references different Census datasets. Regional estimates were compiled from newly released 2017-2018 Current Population Survey data, which measure whether respondents lived in their homes one year ago. State migration totals are the latest estimates from the Census Bureau's population division and represent migration over the 12-month period ending in July 2017. State-to-state migration flows for Florida referenced refer to 2017 American Community Survey data, which assesses a different time period. Estimates regarding reasons why people moved were calculated from Census Bureau CPS microdata for 2015-2017 using IPUMS-CPS, University of Minnesota.
–From Governing.com