Looking for some new Christmas music or thinking you missed some great releases of recent years? Check out what's new for 2018 plus some albums you may want to consider from previous years.
NEW FOR 2018
Maranda Curtis – Maranda Presents a Holy Christmas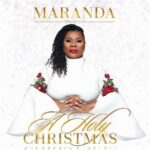 Maranda Curtis is a former worship leader at one of the most influential churches in the country, The Potter's House of Dallas, lead by Bishop T. D. Jakes. She leads worship in and outside of the traditional four walls of the church along with her personal mentoring/coaching of other singers and worship leaders. Maranda Curtis has the amazing gift of drawing her followers to the cross. Not only is she talented, she's gifted. Curtis has released a Christmas project to celebrate the joy of the season. This Christmas project demonstrates the soulful approach to Christmas Gospel music that has made Maranda Curtis the artist that everyone has to hear. Produced by Grammy nominee and close collaborator Dana Sorey, Maranda Presents a Holy Christmas is extraordinary in its musical arrangements as well as the anticipated hair-raising vocals delivered by Curtis and featured guests that include Amante Lacey, Dr. Kevin Bond, Benita Jones and more. The songs included on this album are a new take on "Joy to the World," "The Christmas Medley", a moving rendition of "Oh Holy Night" and "Silent Night" and an award winning rendition of "The First Noel" that features Grammy-nominees The Baylor Project and Jamison Ross.  Maranda Presents a Holy Christmas is available now from Butterfly Works/Red Alliance Media everywhere that digital music is sold. I encourage you to add this album to your holiday shuffle.
Lauren Daigle – Behold (DELUXE): A Christmas Collection

If it's a remaking of Christmas classics that you are after – then check out Grammy-nominated and Dove award-winning artist Lauren Daigle's Deluxe Christmas offering this year. From well-loved classics to carols – there is something for everyone on this album. We have loved Daigle's previous Christmas releases and are excited that she continues to bring more to the table. You can also hear more of her music over in our Downtempo & Chill playlist.
Matt Maher – Winter Snow & Midwinter

Matt Maher releases his first Christmas album in 2018 and the stand out track is definitely his version of Chris Tomlin's 'He Shall Reign Forever More'. Other notable tracks include his reworking of his previously released 'Glory (Let There Be Peace)'
Hillsong Worship – The Peace Project (Deluxe)

Hillsong Worship are not the only Christian artist to release a deluxe version of their Christmas album in 2018. Containing several reimagined and instrumental versions of nearly every track, they provide us with some interesting contemporary versions of Christmas classics and worship songs for the church. We particularly like their version of 'Silent Night'
Not new but still great for consideration!
Casting Crowns – It's Finally Christmas

It's been 9 years since Casting Crowns gave us their first Christmas Album – Peace On Earth – and that album remains a seasonal favorite. So the announcement that they would give us a new Christmas release came as exciting news, but they also had a lot to live up to. We love the worshipful remaking of 'What Child Is This (Christ The King)' and the personal and hope-giving 'Somewhere In Your Silent Night' – which echoes some of their older releases which remain favourites in our hearts.
Sara Groves – O Holy Night

Released in 2008, this album is not new on the Christian Christmas music scene but it is one of the few original Christmas albums out there and continues to hold its own when it comes to Christian Christmas music. From beautiful re-workings of old Christmas favourites to Sara Groves' own down-to-earth songs including the heartfelt 'To be with you' and the slightly-crazy-but-everyone-can-relate-to-this 'Toy packaging'. There is something for everyone on this album.
Audrey Assad – Winter Snow & Midwinter

Audrey Assad's original song 'Winter Snow' changes the pace of our hectic modern day Christmas and allows us to reflect on the gentle way in which He came "Falling from the sky in the night to the earth below". This release comes alongside another track: 'Midwinter' – her take on 'In The Bleak Midwinter' and while Audrey is yet to make a full Christmas album for us, we can always hope and enjoy these winter offerings in the mean time.
Matt Redman – These Christmas Lights

It's been a while since a top worship artist has released a full length album of original Christmas music and Matt Redman's Christmas album has been a long process involving a songwriting retreat to Israel where he walked paths and roads that are so familiar to us in the Christmas story. Redman explains: "I don't just want to just tell a story, I want to make sure that we put ourselves in the story too." Not only do these songs make great Christmas listening but Matt Redman's Christmas album brings some new life to familiar carols with songs and original choruses for use in Christmas worship services as well.
Tenth Avenue North – Decade The Halls, Vol. 1

It's fair to say that Tenth Avenue North had fun creating their Christmas release this year… and how creative they have been. In their 10-track Christmas album, they explore the styles and genres of music over the last 100 years, with each song encompassing a different decade. This is definitely one of the most musically absorbing Christmas releases we have seen in a long time, and we are thankful!
Pentatonix – A Pentatonix Christmas

We couldn't let this year slip by without giving giving 'O Come Let Us Adore Him' a mention from this Pentatonix's Christmas album. Definitely the most fun and creative version of this traditional carol we have heard. This song is sure to add some joy to your holiday playlist!
Josh Garrels – The Light Came Down

A typically innovative album from Josh Garrels, featuring a mix of original songs as well as Garrels' unique take on a number of Christmas classics. Generous in length at over 50 minutes and 15 tracks, the album manages to explore many sonic and stylistic avenues and as such avoids becoming repetitive: The Light Came Down is definitely worth a listen to this Christmas season!
–Cedric Austin and wire services