Am I the only one who begins singing or humming Christmas tunes somewhere around October and November? When anyone asks me what my favorite holiday is, I always answer with Christmas. Christmas reminds me of family time, good food and of course celebrating our saviors birth. Although its just November, I wanted to give you all an early start on your Christmas listening pleasures. Go ahead and get through Thanksgiving while listening to Christmas tunes like me.
November New Releases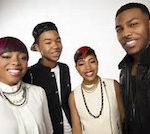 The Walls Group – The Other Side – RCA Inspiration – Provident
Francesca Battistelli – Greatest Hits: The First Ten Years – Fervent Records – Word
Dee 1 – Slingshot David – Independent
Skillet – Unleashed Beyond – Atlantic Records – New Day
Jeremy Riddle – More – Bethel Music – New Day
Nelons – The Americana Sessions – Daywind – New Day
Sara Groves – Abide With Me – FairTrade Services – Provident
Alexis Slifer – Famous For EP – Bema Media
Kutless – Alpha Omega – BEC Recordings – New Day
Tye Tribbett and The Bloody Win
With one listen to Grammy Award-winning gospel artist Tye Tribbett, it's obvious God has blessed him with many gifts. The New Jersey native is a songwriter of considerable depth and insight as well as a spirit-filled vocalist who knows how to get worshippers on their feet rejoicing. Over the years, God has opened doors for Tribbett to spread the gospel through a variety of different avenues. He's toured with numerous artists including Faith Hill, Tim McGraw and Don Henley and has sung on recordings for Justin Timberlake, Missy Elliott, Sting and many others. His music has graced radio airwaves, television shows and movie soundtracks. Tribbett is a well-respected and highly anointed artist, yet when his name is mentioned, people are also quick to say how much fun and how joyful his music is. Tribbett released his sixth album on October 13. The album is titled The Bloody Win.
Months before the album was released, he began teasing us by releasing one new song from the album every three weeks until the approach of The Bloody Win tour.
"Work It Out and "Already Won" are two fan favorites. The 12 tracks of the project go from up-tempo, praise and worship-worthy jams to the most poignant of gospel exaltation. And Tribbett is heaven-bent on raising the bar for the glory to God.
"My album The Bloody Win is conceptually about aggressive victory," he says of the project. "It's a message that now is not the time to be passive. When there's darkness in the world, you have to fight for the light."
Bryan & Katie Torwalt Christmas
Bryan and Katie Torwalt's latest EP, Christmas, is the perfect way to ring in the holiday season.
Starting out the project with two classics, "The Christmas Song," and "It's Beginning to Look a Lot Like Christmas," the husband and wife duo create gorgeous harmonies paired with classic melodies, evoking a sense of "home" that only the holiday season can. The third song is a fresh take on two classics, creating a medley of "Hark! The Herald Angels Sing," and "Oh Come Let Us Adore Him."
The EP concludes with, "Emmanuel," a Christmas version of an original that was released on their latest album, Champion.
This song perfectly showcases the Torwalt's incredible songwriting gift as they capture the true meaning behind the Christmas season. Bryan and Katie have created new renditions of classics, as well as worshipful moments that will surely become part of your holiday collection for years to come.
The EP truly captures the heart of the season and is an album you won't want to miss.
A Very Perry Christmas
The journey for The Perrys began on Christmas Day in 1970, when siblings Libbi, Randy and Debra gathered around a piano to sing. After 47 years of full-time ministry, thousands of fans and an impressive number of accolades including chart topping album sales and radio singles, The Perrys are finally adding their first Christmas album to the impressive discography.
Appropriately titled, A Very Perry Christmas, this album will lift the spirits and whisk you away to Christmases past with their classic arrangements of familiar tunes from the tender, Silver and Gold (from the television classic, Rudolph, the Red-Nosed Reindeer) to the joyous favorite, We Wish You A Merry Christmas to the official Christmas song of Hawaii, Mele Kalikimaka. So start the fire, brew the hot cocoa, grab the peppermint sticks and get ready for a VERY PERRY CHRISTMAS!
–By Cedric Austin | Metro Voice Music Editor