How's your golf game? Does it need some work? What are you doing to improve? If you just keep practicing the same way at the range, are you really expecting to get better? Practice only helps if you practice the right way.
Relying on your golfing buddy's advice may be no better. What works for him may not work for you. Every golfer has an individual style, but we all need help to make sure be are doing the basic things correctly. Spending a few bucks on lessons can help you enjoy the game more and score better when you play. A golf professional can be a great investment for a small cost (compared to what you spend on clubs, accessories, fees, etc.).
GreatLIFE Golf in Topeka has several golf professionals who can help you fix your golf game. One of them may be the right choice for you in your quest to improve your scoring and enjoy the game more this summer.
Joey Martinak has been a PGA Professional since 1994 and has been in the Topeka area since 1980. Martinak is a graduate of Washburn Rural High School & Washburn University and has been teaching golf in the community for 27 years. He started in the golf business in 1985 at Cedar Crest Country Club, which is now Western Hills. He then moved on to Colly Creek, now Berkshire, for 3 years from 1991-1993. After a 3-year stent at Manhattan country Club, he moved back to Topeka in 1996 and has been at Shawnee Country Club ever since.
To schedule a time with Martinak at Shawnee Country Club or any other GreatLife Topeka location, contact him by phone at 785-554-2825 or by email at joey.martinak@greatlifegolf.com.
Martinak says he tries to keep his golf lessons sweet & simple. "I like to give a person only 3-4 items to think about at each lesson, and then build on that the next time," he said. "I don't want them to get overloaded with too much information."
He also thinks most golfers need to focus on their short game more, which is a huge part of their golf score. "Many golfers only work on hitting drivers at the range," he said.
Martinak considers himself a positive person, be wants his students to be positive also, and to be excited about the lessons. In the end, he says, there's only one best way to improve.
"Practice, practice, practice – especially on the short game," he said.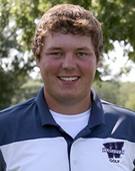 Ronnie McHenry has lived in Topeka most of his life graduating from Shawnee Heights High School. After High School he went on to play golf at Washburn University and while there he also graduated with a Business degree in Marketing and Management. After College Ronnie moved to Dodge City, Kansas, to take over as the Golf Professional at Dodge City Country Club. While in Dodge City he moved up to be the General Manager and Golf Pro at the Club.  He is now the resident pro and manager at GreatLIFE Golf at Western Hills.
McHenry has also had a passion for Junior Golf for a very long time. He first got involved at age six or seven. Later on, while pursuing golf at Washburn University, he worked with young golfers during the summers. And now he heads up the Junior Golf program for GreatLIFE in the greater Topeka area, offering golf summer camps and individual lessons. McHenry says he likes getting kids started off right in golf at a young age, which helps them learn it faster and get more enjoyment from a game they can play their entire lives.
McHenry is available for golf lessons for adults and kids all year long. For more information contact McHenry at GreatLIFE Golf at Western Hills by calling 785-478-4000 or email him at ronnie.mchenry@greatlifegolf.com.
Jane Yi is an LPGA Certified Instructor with GreatLIFE Topeka. A Kansas native and member of the LPGA T&CP since 2003, Jane has worked several Golf Clubs in Kansas, Florida and Maryland. A Shawnee Heights & Kansas State University graduate and golf team member, she has competed in over 100 tournaments. She was a KSU All-American collegiate Player and the 1999 Kansas State Women's Champion.
With over 20 years of experience in Instruction, Yi specializes in Tournament Play and Game Management for all levels and ages of students. Her motto is "Developing the right fit & approach to your game. Golf = More Fun Times!" Yi can be reached at dragongolfing@gmail.com.
Summertime is a great time to work on improving your golf game. Call your favorite golf professional and make sure your practice time is well spent.