The Topeka Police Department and ArtsConnect are inviting the public to celebrate the completion of the TPD Mural Project: The Common Ground.
A dedication ceremony will be held on Thursday, October 24 starting at 5:00 p.m. in front of the mural wall which is located on the southeast corner of 3rd St. and S Kansas Ave.
"The Common Ground Mural sends an important message to our community. It reminds us that law enforcement officers are part of the community just like anyone else," said Topeka Police Chief Bill Cochran. "My hope is that when our officers begin their shift, they will look at the mural and be reminded of how this profession is much greater than just ourselves."
The blank white wall has been transformed into a colorful mural in hopes to bring people together and bridge the gap between the police department and the community.
To date, more than 225 community members have come out to put their mark on the mural.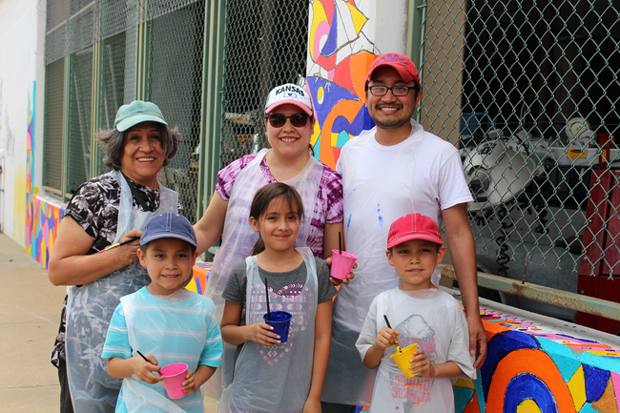 Alongside the community, a team of local artists was hired to design and complete the mural. Inspiration for the mural comes from a committee which includes Topeka Police Department staff, community members and a team of local artists.
"This project is like no other in the entire country," said Sarah Fizell, Executive Director of ArtsConnect. "This team of artists has put in hundreds of hours in order to complete this giant project and it shows in the quality and attention to detail poured into every inch. ArtsConnect is grateful for the opportunity to play a role in continuing to make these projects a reality. They make Topeka stronger and Topeka is lucky to have this kind of leadership in the ranks of law enforcement. We hope that this project shines a light on the fact that TPD is committed to building a positive relationship with the people who live in Topeka."
"In order to accomplish something great, it takes common ground: a place where everything is on equal footing," said Artistic Director Michael Toombs. "The beauty that comes from this harmonic interaction is colorful and exuberant. It is also inclusive, expressive and meaningful. I am very proud of this mural and look forward to seeing how it will resonate in the Topeka community for many years to come."
During the ceremony, 3rd St. will be closed to vehicular traffic from S Kansas Ave. to SE Quincy St. Parking is available along Kansas Ave. and nearby streets.
The schedule for the event is as follows:
5:00 p.m. – Dedication Ceremony begins
5:30 p.m. – 6:00 p.m. – Remarks and artist recognition
6:00 p.m. – 6:30 p.m. – Meet the artists and those behind the project
6:30 p.m. – Ceremony concludes
A list of artists who worked on this project is as follows: C. Dylan Barker, Hector Bernal, Jordan E. Brooks, Robert Tapley Bustamante, Luke Farron, Officer Jennifer Gogian, Deja McCracken, Oshara Meesha, Corey Merrill, Sara Myer, Andrea Nix, Von Perry, Jason "Spacin' Jason" Riedel, Jordan Smith, Norla Todd, Artistic Director Michael Toombs, Andy Valdivia, Kelly Vondra and Woody Woodward.
For more information about the TPD Mural Project, visit www.artsconnecttopeka.org/tpd-mural.
–Lee Hartman | Metro Voice
Go here to visit the Topeka Metro Voice Facebook page for local event notices, breaking news and local announcements. To help us spread the word, and to continue seeing our posts on your Facebook feed, "Like" the page and then like or share a story now and then.