One employee has been fired and the rest are scheduled for retraining after a worker at an Ohio Taco Bell refused to serve a hearing-impaired customer.
Brandon Washburn, who is hearing impaired, regularly visits the same Taco Bell restaurant in Kettering, Ohio for a quick meal of Mexican fare.
Things didn't work out so well when he made his habitual "run for the border" on the night of Jan. 2.
Washburn, 25, was with his girlfriend, who is also hearing impaired. She recorded the whole incident on her phone.
Washburn pulled up to the payment window with his order displayed on the screen of his cell phone. The cashier refused to accept the order. Washburn persisted; he had ordered food this way many times before. In fact, the store has a sign posted at the order window stating, "Customers with hearing or other disabilities please pull up to the next window for assistance," KSLA reported.
Washburn sat at the window for about three minutes, trying to get the cashier to take his order. Washburn said that at one point the cashier handed him a note saying it was against store policy to take an order that way, and motioned for Washburn to enter the store, WHIO reported.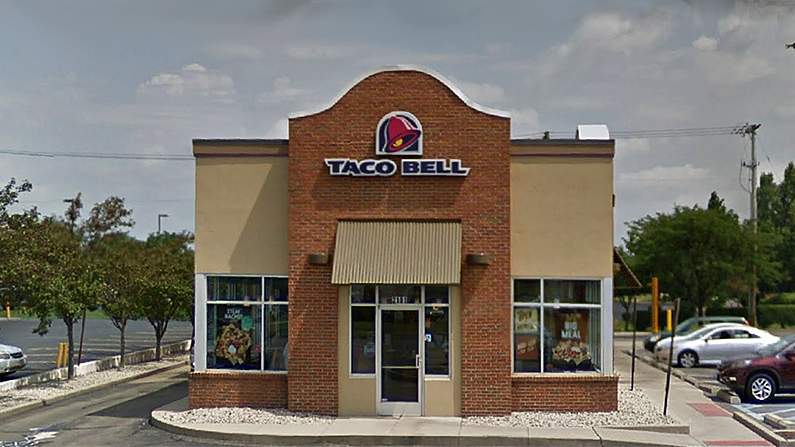 After repeatedly refusing to take Washburn's order, the cashier closed the drive-through window and walked away, Fox News reported.
When Washburn didn't drive off the employee returned and threatened to call 911 because Washburn was blocking the drive-through. When Washburn continued to try to order food, the cashier actually did call the police.
When the police arrived, instead of arresting Washburn, they offered to go inside and get his order for him.
Washburn declined. He took his business elsewhere.
Outraged Mother, Viral Video
Once he got home, Washburn explained what had happened to his mother, Becky Burch. Burch was incensed.
"I was shocked," Burch told WHIO. "When you see it happening to your child, I was upset. I raised him to be independent."
"It broke my heart because to me he's a person just like anyone else. He just communicates differently," she told KSLA.
Burch decided to post the video on Facebook, to hopefully prevent further incidents of discrimination caused by ignorance.
The video soon went viral, and elicited a response from Taco Bell's corporate office.
"Taco Bell has a fundamental policy to respect all of our customers and employees, and we are committed to maintaining an environment free of discrimination or harassment," the statement read.
"The franchise owner and operator of this location has investigated this situation and the team member no longer works for their organization.
"All team members at this restaurant are being retrained by the franchise owner on their policies."
"Our intention was not to have the worker fired, but to raise awareness," Burke told WHIO. "He [Brandon] is not the first person with a disability to come into their restaurant."
Brandon Washburn also wants the ill-treatment to end, and hopes the video helps in some way.
"I would like it to be the last time," he explained, speaking with his mother's assistance. "It just happens so much—not just to me, but to other deaf people all over."