This year's Grammys saw several Christian artists, who have found popularity in the mainstream market, take home top prizes. Now they and their message are reaching more ears than ever.
The 61st year for the awards show saw a slightly higher audience as most artists left their politics at home and, to the sigh of relief of millions of Americans, just focused on music and the celebration of artists like Dolly Parton.
Some are saying that God is increasingly taking center stage in the music industry and last night's award show was no exception. As Christian artists ascend to the top spots on the charts with hit songs, their influence continues to grow.
Here are 5 things you might have missed at this year's Grammy Awards.
1) Tori Kelly wins Best Gospel Performance/Song and Best Gospel Album
In a collaboration with Kirk Franklin, Tori Kelly won the Grammy for Best Gospel Performance/Song for "Never Alone."
Kelly also took home the award for Best Gospel Album for her record called Hiding Place.
"What a wild day. I still don't know how I was somehow able to soak the tears back into my eyes as I was walking up to accept each of these. Dreamed about this since I was a kid. Never thought U would get 2 in 1 night," a jubilant Kelly tweeted.
2) Artist Lauren Daigle nets first Grammy awards
Winning best Contemporary Christian Music Album this year was artist Lauren Daigle, whose success has skyrocketed this year as she has risen to the tops of charts and has performed on several national television programs.
"This record, I'll tell you, it just came out of a season of realizing we're just supposed to look up," Daigle said as she accepted the award Sunday for her album Look Up Child.
"I love that music gives us the opportunity to look up. It gives us the opportunity to spread love to the entire world. I just want to thank Jesus for letting me be a part of this, that He's put a voice in my throat."
She also won Best Contemporary Christian Music Performance/Song for her song "You Say," which she performed on "Good Morning America" in December. To date, the song on her YouTube channel has received almost 66 million views.
3) Jimmy Carter wins third Grammy
The award for Best Spoken Word Album was given to someone who won the award in 2016 and in 2007, Jimmy Carter, the 39th president of the United States.
His book, which earned him the prize and was released in late March, Faith – A Journey For All, explores "the broader meaning of faith, its far-reaching effect on our lives, and its relationship to past, present, and future events in America and around the world."
Carter, now 94, won the Grammy in the same category three years ago for A Full Life: Reflections at 90 and in 2007 for Our Endangered Values: America's Moral Crisis.
Carter has been nominated a total of nine times. Former presidents Barack Obama and Bill Clinton have also won Grammys.
4) God 'center stage' at awards ceremony, Christians changing industry, author says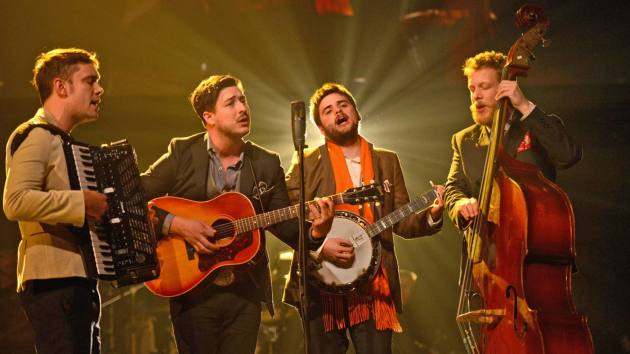 In a Sunday Fox News column, Mark Joseph, author of Rock Gets Religion: The Battle For The Soul of the Devil's Music, argued that God would be "center stage"
"In fact, a glance at this week's Billboard rock singles chart shows that around half of the artists are devout, with most being Christians of an Evangelical bent, like Mumford & Sons, Matt Maher, Needtobreathe, Shinedown, Foster The People and 21 Pilots," Joseph noted.
The devil's music is becoming a lot less devilish, he said, particularly as Christian artists leave behind "Christian" record labels.
"[E]stablished artists who had once rocked the Christian music world left those labels behind, signing instead with mainstream recording companies, such as Atlantic, Epic, Universal, and others, and reemerging as mainstream artists without changing their messages. Among this group is the band Switchfoot which currently has the #4 single in the country on the Billboard rock chart as well as the likes of the now disbanded group The Civil Wars led by Joy Williams who was a Christian pop star in a previous incarnation," he said.
5) South African gospel choir wins Best World Music Album
The Soweto Gospel Choir won the Grammy for Best World Music Album for its record Freedom.
The record was released in 2018 as part of the choral ensemble's tribute to the 100 Years of Mandela celebrations. Featured on the record are a variety of South African struggle songs including a rendition of Asimbonanga, by Johnny Clegg.
The Soweto Gospel Choir was formed in November of 2002.
Their win this year is the group's third Grammy, having won previously in 2007 and 2008. In 2009, the choir became the first South African artist to perform at the Academy Awards. They have performed with gospel artists Kirk Franklin and Bebe Winans.