Luke Bryan is well known for his presence on the country music scene, but music isn't his entire life. He and his wife also have chickens, goats, cats and dogs on their farm in Tennessee.
And this month, they added another member to their family: 18-year-old Poochie. Poochie had a very sad story when he got to Proverbs 12:10 Animal Rescue, which was founded and is directed by Lavonne Redferrin in Nashville, Tennessee.
Poochie came in so old and riddled with so many issues that when the rescue accepted him, they were just planning to put him into hospice foster so he could enjoy his last days in peace.
"I am still trying to wrap my mind around this situation (please read below), but rather than wasting time on that, I want to say, this sweet old man becomes a Proverbs' rescue this morning," the rescue posted on Feb. 1. "At age 18, he is becoming a hospice foster (thanks Lacey Marie for inviting him into your home). We will cover all medical needs as well as his food."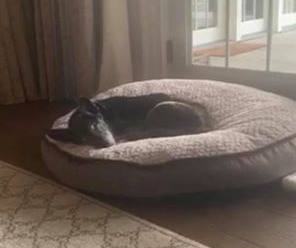 "He is headed to Cornerstone this morning for initial vet care. Whatever amount of time he has left, he will receive love and comfort. Thank you MACC for reaching out to the rescue community to give him a chance."
"We pulled 18-year-old Poochie from a shelter after his family surrendered him due to becoming allergic," Redferrin told People. "We often step in and pull seniors, sickly and injured animals who are likely to be overlooked."
Poochie went into foster care, but then the Bryans came across his story. Something about him tugged at them, and they reached out and offered to take him onto their family farm to give him the best last days any dog could wish for.
"I don't know of a soul who doesn't love a happy ending," the rescue wrote on Monday. "Well, get ready for your Monday smile because this is as good as it gets!"
"Poochie, the 18-year-old who was surrendered to the pound when his family became allergic and whom we pulled was expected to be a forever hospice foster with Proverbs (like many others in our care), but God had different plans."
"After reading about Poochie on our social media, Luke Bryan and his beautiful wife, Caroline, applied and adopted Poochie this past Saturday! He is pictured here with his new mom, Caroline and his previous foster, Lacy Marie!"
"He is loving life on the Bryan farm and soaking up all their love. Who knows, maybe Poochie will inspire a country song!"
"We are so thrilled for Poochie and know he is in great hands," Redferrin said. "Caroline Bryan has graciously given us updates on our sweet boy. Their adopting this sweet old guy will allow us the chance to save yet another."
Photos from his new family show him enjoying all the doggy joys in life: comfy beds to lie on, camo jackets to keep him warm while wandering the farm with his humans, and loving new parents. Welcome home, Poochie!