After being discussed, voted on, delayed, and redesigned for 15 years, Kansas City's new international airport will finally become a reality.  Officials say that the new KCI will have a groundbreaking ceremony at 2 p.m. March 25 at Kansas City International Airport's Terminal A parking structure.
Attending the celebration will be community organizations, business leaders, city officials, airline representatives and the project's designs and builders.
The new KCI is already making history. With over one-million square feet, the new one-terminal design is the largest infrastructure project in Kansas City's history. That's larger than the stadium complex combines, the city's largest skyscrapers, and the region's largest auto manufacturing plants. The project is projected to generate up to 5,000 construction-related jobs.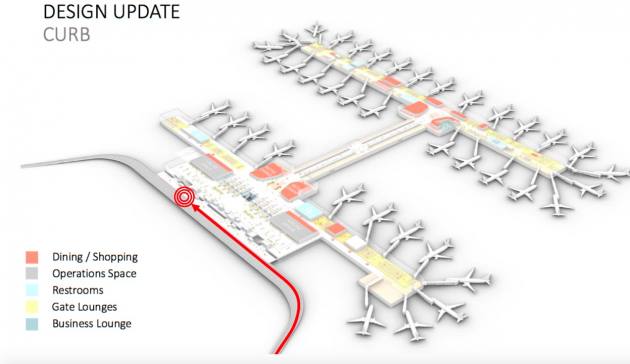 Travelers will notice the biggest change in the design. Moving from dozens of gates spread across three terminals, the new design is a one-terminal facility making access between terminals easier–especially for connecting flights. No longer will flyers be forced to go through security specifically for certain gates. Rather, they'll enter the airport, pass through security just once and then be free to find food, friends and most popularly – restrooms that are conveniently located.
Other upgrades include charging centers built into each seat, expanded lounges, expansive windows, huge check-in lobby with one entrance for security and expanded food options.
The best thing that remains for many flyers is the drop-off curb for flyers being dropped off at the airport.
While the one terminal design has its detractors, who cite cost and their love for the old facility, Kansas City residents overwhelmingly voted on Nov. 7, 2017 to proceed with the new airport. More than 75% of voters said "yes."
The terminal will be built alongside the current three-terminal facility and is expected to be finished in 2023.  It will be the newest and most advanced airport in the nation when completed and supporters hope it will propel Kansas City to the top of the list of cities ready for travel in the new Century.
–Metrovoicenews.com