In a 10-minute address, President Donald Trump spoke to the nation from the Oval Office on Jan. 8 about the mounting crisis at the southwest border.
"Over the years, thousands of Americans have been brutally killed by those who illegally entered our country, and thousands more lives will be lost if we don't act right now," Trump said. "This is a humanitarian crisis. A crisis of the heart and a crisis of the soul."
Broadcast from the Oval Office, the president conveyed somber statistics compiled by the Department of Homeland Security, including increases in drug seizures, the apprehensions and deportations of thousands of gang members, and widespread sexual assaults on both male and female migrants on their trek north.
"Women and children are the biggest victims by far of our broken immigration system," Trump said, adding that at least 1 in 3 women is raped on the journey north.
Trump's address came after Democrats in Congress blocked his request for $5.6 billion to construct a wall on the border, triggering a partial government shutdown, which started at midnight on Dec. 21. A team led by Vice President Mike Pence spent the weekend of Jan. 5 negotiating with the Democrats, but no agreement was reached.
On Jan. 8, Trump said he wants a further 3.5 billion in Homeland Security appropriations in the spending bill. The extra would be earmarked for more detention space, Immigration and Customs Enforcement and Border Patrol agents, immigration judges, and other resources, such as drug scanning equipment at ports of entry.
Trump also said the wall funding, which he revised to $5.7 billion, would suffice to pay for 234 miles of a new steel barrier. The extra appropriations pushed the total border security package request to $12.72 billion.
"This barrier is absolutely critical to border security. It's also what our professionals at the border want and need," Trump said. "This is just common sense. The border wall would very quickly pay for itself. The cost of illegal drugs exceeds $500 billion a year, vastly more than the $5.7 billion we have requested from Congress."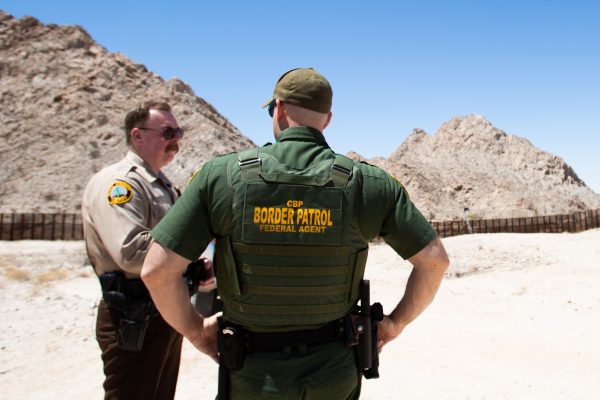 Reactions
Sheriff Leon Wilmot, from border county Yuma, Arizona, said he appreciated Trump's speaking for the front-line law enforcement officers who "secure our borders, port of entries, and airports, where these officers work tirelessly to combat the transnational criminal element."
"I appreciated that the president spoke for the families of the victims that have lost their loved ones at the hands of the criminal element that has come into this country illegally," he said.
"He also touched on that our federal partners have no space left to hold [illegal aliens], which is true. We are overwhelmed."
Yuma went from having 5.2 miles of border fencing before 2006 to 63 miles, and subsequently saw an almost 95 percent decrease in border apprehensions by 2009, when Border Patrol made about 7,000 arrests.
Wilmot said the fence also helped cut ancillary crime in his community by 91 percent. 
"I agree completely with the president that it is immoral to allow the current situation to continue," Wilmot said. "The women and children are particularly vulnerable to these cartels and criminals."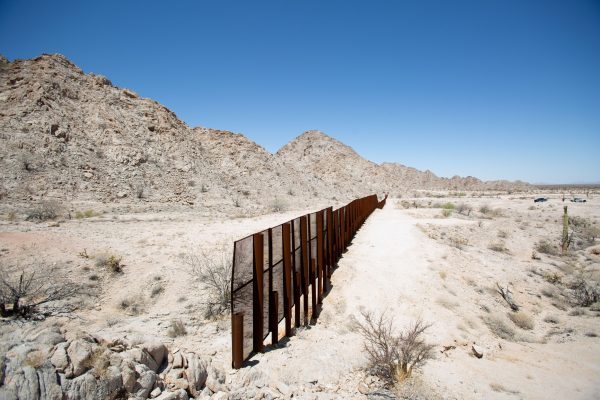 Mary Ann Mendoza, whose son, Sgt. Brandon Mendoza, was killed in a head-on car crash by an illegal alien, said Trump showed in his address that he "truly cares for each and every American citizen."
Brandon was killed in 2014 by an illegal alien who was drunk, high on meth, and speeding.
"The statistics [Trump] cited are the truth that so many politicians refuse to acknowledge," Mendoza said. "By preventing border security from happening, Nancy Pelosi and others are only posturing.
"I pray all the disbelievers and anti-Trump individuals are never affected by illegal crime as I have been. President Trump is fighting for their safety, as am I on a daily basis."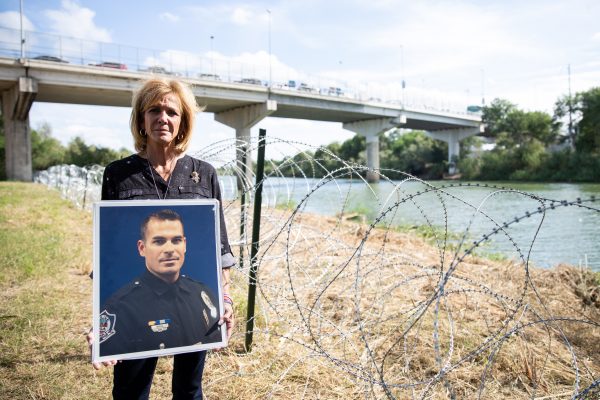 Sheriff Andy Louderback of Jackson County, Texas, said "walls work."
"Walls work in prisons, at homes and certainly at the border of our country. President Trump's border security proposal will protect all Americans and protect the Democrats from themselves!"
Overwhelmed
Well over a million illegal border crossers from Central America's Northern triangle—El Salvador, Honduras, and Guatemala—have overwhelmed the immigration and border security infrastructure in recent years. The influx is facilitated by several legal loopholes, which allow the aliens to avoid deportation by claiming asylum, despite more than 90 percent being eventually ruled ineligible for asylum by an immigration judge.
The immigration courts are so overburdened, with some 800,000 cases pending, that 98 percent of families and unaccompanied minors in the system never reach the point of deportation.
The situation has further intensified in recent months. Border Patrol apprehensions were up more than 30 percent in October and November combined, compared to the previous two months combined.
The Case for a Wall
The border wall was Trump's core campaign promise. Border security officials support the idea.
"The president is right, the president of [National] Border Patrol Council is right," Mark Morgan, who led Border Patrol during the last years of the Obama administration, told Fox News. "When they … said, 'The wall works,' they are right. And it's not based on a personal, political ideology. That's based on historical data and facts that can be proven."
Morgan was asked to leave shortly after Trump assumed office.
"So you were taken out of your job by Donald Trump, but you're here to tell us that a wall makes sense anyway?" Carlson asked.
"Correct," Morgan replied.
Democrat leaders have called the wall project ineffective and expensive, though in the past, many have supported multiple bills that proposed border barriers similar to what Trump is asking for.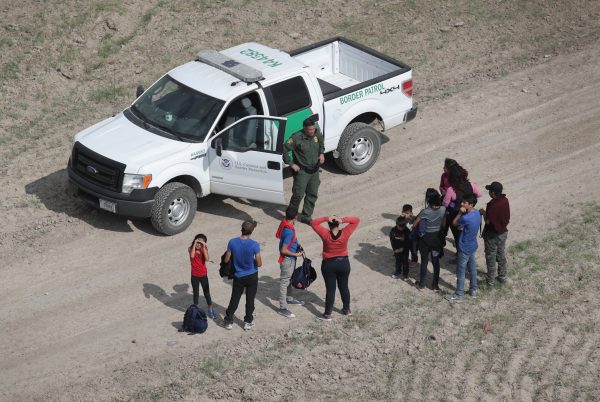 Humanitarian Crisis
Trump called the border situation a humanitarian and national security crisis.
More than 50,000 minors and over 100,000 family units were apprehended at the border in fiscal year 2018, which ended in September—up over 34 percent from the year before, according to Customs and Border Protection (CBP).
Seven in 10 of the migrants fall victim to violence on their journey north, according to a congressional briefingprepared by the administration. More than 30 percent of the migrant women and 17 percent of men are sexually assaulted on the way.
Many of the migrants are sick by the time they reach the border. Every day, authorities refer an average of 50 of them for medical services, according to the briefing. Some 4,300 people in distress are rescued by CBP every year.
The ones making a windfall from the suffering at the border are smugglers, who charge thousands per head to escort migrants across the U.S.–Mexico border through cartel-controlled smuggling routes. Criminal organizations make $2.5 billion a year on the human smuggling business, according to the briefing.
Trump sent the briefing to all Congress members on Jan. 4 after Secretary of Homeland Security Kirstjen Nielsen couldn't go through it during a White House meeting with top Democrats lawmakers Sen. Chuck Schumer (D-N.Y.) and House Speaker Nancy Pelosi (D-Calif.).
"Some of those present did not want to hear the presentation at the time," Trump said in a Jan. 4 letter to lawmakers.
National Security
Nearly 3,800 known or suspected terrorists were blocked by Homeland Security from entering the country in 2017, though most likely only a fraction of them were stopped at the southern border.
The national security risk, however, goes beyond terrorism.
CBP and border agents arrested some 17,000 convicted criminals and the Immigration and Customs Enforcement removed nearly 6,000 known or suspected gang membersin fiscal 2018.
"When he says this is a national security problem, he's absolutely correct," Morgan said. "And that doesn't come just from me. That comes from the professionals that've been doing this their entire adult lives, serving the country on the border, protecting the citizens."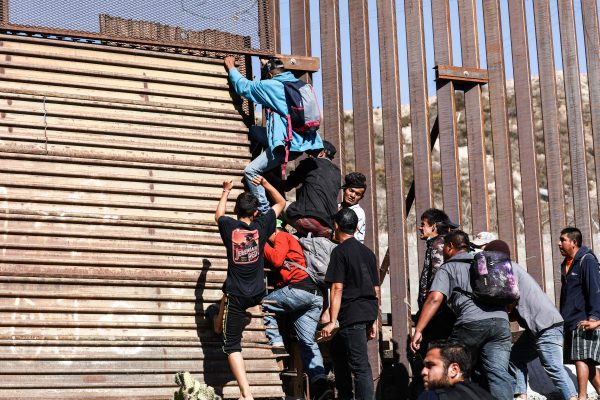 Drug Crisis
The porous border also enables the cartels to fuel the drug epidemic that claimed nearly 71,000 American lives in 2017.
CBP seized or helped seize 1.7 million pounds of narcotics in fiscal 2018, including 282,000 pounds of cocaine, 248,000 pounds of methamphetamine (up 38 percent from 2017), 6,500 pounds of heroin (up 22 percent), and 2,400 pounds of the especially lethal fentanyl (up 73 percent).
Most of the drugs come through ports of entry, where CBP scans less than 20 percent of the vehicles passing through. Trump has asked Congress to authorize $675 million "to deter and detect narcotics, weapons, and other materials that pose a threat to the United States." The money would pay for more sniffer dogs, new detection equipment, and other supports at ports of entry.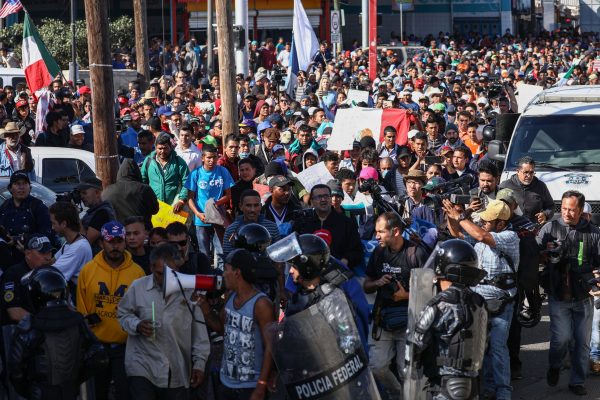 National Emergency
Trump still has the option of declaring a national emergency, which would grant him additional powers to command the nation's resources—but it's not unlimited. There are several federal statutes that specify what the president can do, explained Will Chamberlain, a lawyer with the Competitive Enterprise Institute, a libertarian think tank, in a series of Twitter messages on Jan. 6.
Under federal law, the secretary of Defense has the emergency authority to take "funds, personnel, and equipment" from other civil works projects "to construct or assist in the construction, operation, maintenance, and repair of authorized civil works … essential to the national defense."
The statute gives Trump the authority to use the civil works funding (some $4.8 billion in fiscal year 2019) for wall construction, Chamberlain said. Border barrier construction has already been authorized under the Secure Fence Act of 2006, which should be enough to satisfy the statute's language, he argued. The only thing that remains is for Trump to justify the construction as "essential to the national defense."
A separate statute authorizes the Defense secretary to redirect money for military construction projects, though Chamberlain acknowledges it would be "a stretch" to call the wall a military construction project.
Other experts have provided conflicting explanations on whether Trump can or cannot use Defense Department money for the wall.There are currently 31 active national emergencies, including 11 declared by Trump's predecessor Barack Obama, according to a CNN tally. Congress can block a national emergency with a joint resolution, but it would need to gather two-third majorities to overcome Trump's veto power, Chamberlain said.
EpochTImes