As people anticipate cooler temperatures, one activity that will finally bring them back out of the house as summer ends are the numerous festivals that celebrate America. You'll have plenty to choose from across our area. Check out my picks for this year's "must attend" events.
KANSAS FESTIVALS
GREATER ANDOVER DAYS
Sept. 29 – Oct. 2, Andover, KS
The festival includes a food court, KidFest, 5K fun run, parade, fishing clinic, car show, business expo / craft fair, carnival, ice cream social, live entertainment and a fireworks show in Central Park. This year's event will once again include a Friday night tailgate party featuring Radioflyer and a Saturday evening concert featuring Lucky People.
HARVEST FESTIVAL
Oct. 8, Junction City, KS
Join us for a day full of fun activities! Highlights of the event include a picnic lunch, live music, tours of the farm, hay rack rides, kids' play area, Kansas product sampling and educational demonstrations. This is a free event.
JAMMIN' IN JC BLUES & BBQ FESTIVAL
Sept. 23 & 24, Junction City, KS
Blues and BBQ…it's a winning combination! Music will fill the air when the Jammin' in JC Blues & BBQ Festival brings Texas Style Blues and a four category BBQ contest to historic downtown Junction City.   Bring your lawn chairs or blankets! No alcohol, coolers or pets are allowed.
KC FAMILY FEST
Sept. 18, Lenexa, KS
Everyone is invited to this free community-wide festival for families. Bring your whole crew for acres of rides, gigantic inflatables, games and activities for all ages. Enjoy music and DJs, teen zone, kiddie rides and lots of family-friendly fun! Lunch will be available from the best food trucks in KC.
LENEXA SPINACH FESTIVAL
Sept. 10, Lenexa, KS
lenexa.com/parks/festivals_spinach.html
Lenexa was hailed as the "Spinach Capital of the World" during the 1930s. We celebrate that part of our history with the annual Spinach Festival, a fun, family-oriented event that draws thousands of visitors from all over the area. It's a fun-filled day of food, music, entertainment, arts and antique vendors.
LITTLE BALKANS DAYS
Sept. 2 – 4, Pittsburg, KS
The premier annual festival in Pittsburg, KS celebrates the community's culture, heritage and history. Three days of various events, activities, entertainment and vendors in downtown Pittsburg. Vendors set up on Broadway from 4th to 7th street.
PAXICO BLUES FESTIVAL
Sept. 17, Paxico, KS
Music, community, a rural good time for more than a decade!   Big-city blues, dancing, local food, antique dealers, and live music from morning to night.
SHAWNEE INDIAN MISSION FALL FESTIVAL
Oct. 8 & 9. Fairway, KS
kshs.org/p/shawnee-indian-mission
The Shawnee Indian Mission Fall Festival features living history demonstrations, craft areas, children's activities, and food booths, as well as live entertainment, including authentic Native American dancers.
WALNUT VALLEY FESTIVAL
Sept. 14 – 18, Winfield, KS
Visitors come not only to enjoy the music but to be a part of the festival, either through the continuous campground jam sessions or as a contestant in one of the eight different acoustic instrument contests. It also includes various food vendors and a large juried arts and crafts show
MISSOURI FESTIVALS
Annual Heritage Festival
Oct. 8 & 9, Arrow Rock, MO
This year's festival features lost-art crafts demonstrated and sold by costumed artisans; live music and entertainment; great food; and the historic ambiance you won't find anywhere else!  Join us on Sunday for an old-fashioned, non-denominational worship service at the historic Christian Church.
Autumn Daze Arts, Crafts & Music Festival
Sep. 15-17, Branson, MO
The entertainment stage will feature free live music from some of Branson's finest entertainers! Crafters and artists from many states around the country will participate. Many vendors will be demonstrating their techniques!
APPLE FESTIVAL
Sept. 10, Raymore, MO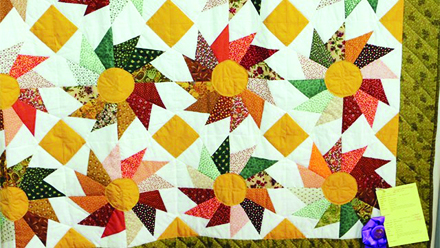 The Apple Festival is an annual fundraising and family fun event that benefits the children of Missouri Baptist Children's Home.
Crafts, quilts, children's area and apple-related foods of all kinds are just a few of the many reasons why the Apple Festival is a day full of fun, food and fellowship for the entire family. A variety of handmade crafts and quilts are donated to the Children' Home from all over the state to be auctioned and sold at the festival.
Dogtober Fest
Oct. 16, Blue Springs, MO
This is the perfect afternoon for dog lovers and their humans. Event highlights include the Halloween costume contest, agility fun run, dock diving, Frisbee competition, obedience obstacle courses, dog/owner look-alike contest, and the Blessing of the Animals.
HERITAGE DAYS
Oct. 15 & 16, Warsaw, MO
www.warsawchamberofcommerce.com
More than 230 modern day crafters exhibit their handmade items in the Community Building and on Drake Harbor. Then take the bus to the Harry S. Truman Visitor's Center for the Kaysinger Bluff Pioneer Assoc. Heritage days, and learn about blacksmithing, bee keeping, apple butter making, branding, wood carving and more!
Missouri Town 1855 Festival of Arts, Crafts and Music
Oct. 1 & 2, Lee's Summit, MO
mo-jacksoncountyparks.civicplus.com
Celebrate the arrival of fall at Missouri Town 1855! Enjoy 1850s music and dance, horse drawn buggy rides, hot-spiced cider, children's games, period arts and crafts, and fun-filled hay rides. Now in its 40th year, the Missouri Town 1855 Fall Festival is one of our region's longest running consecutive festivals!
Maple Leaf Festival
Oct. 1-29, Carthage, MO
Festival offers family style fun in a home town atmosphere.  Numerous events are scheduled throughout the day to entertain young and young at heart, including: Willie Arthur Smith's Marching Cobras; an art and crafts festival; car and dog shows; quilt show; food vendors; and live entertainment, a 5K/10K; beauty pageants; baby and toddler contests; dog skill competition; a gospel sing; a lip-syncing competition and more!
OLDE TYME APPLE FESTIVAL
Oct. 1, Versailles, MO
This year's theme is Jumpin' and Jivin' to the 1940s.  Festival includes pie baking contest, vendors, car show, music, 5K, golf tournament,  parade, fun zone for kids, tractor and engine display, and more!
–By Anita Widaman | Metro Voice Editor