Los Angeles County's Democrat officials have convinced a judge to end indoor services at the megachurch John MacArthur pastors. Four previous attempts had failed and now the church is defying those orders.
Los Angeles Superior Court Judge Mitchell L. Beckloff granted a preliminary injunction that prevents the hugely popular Grace Community Church of the Valley from "conducting, participating in, or attending any indoor worship services."
Strangely, the order also bans outdoor worship unless restrictions are followed but does not also cover protests that are taking place outdoors.
"While the court is mindful that there is no substitute for indoor worship in the 'spiritual refuge' of a sanctuary, the court cannot ignore the County Health Order does not dictate a ban on worship … [but] provides any worship must take place other than indoors."
"The court finds the balance of harms tips in favor of the County. The potential consequences of community spread of COVID-19 and concomitant risk of death to members of the community—associated and unassociated with the Church—outweighs the harm that flows from the restriction on indoor worship caused by the County Health Order."
Pastor John MacArthur, one of the most respected Christian leaders in the nation, ridiculed the court order as "an inexplicable ruling," in a statement issued by the Thomas More Society, which is representing the church in court.
READ: Federal judge strikes down all state-imposed restrictions in Pennsylvania
"1/100th of 1% of Californians with a virus apparently wins over the U.S. Constitution and religious freedom for all? That is not what our founders said. Nor is that what God says, who gave us our rights that our government—including the judicial branch—is supposed to protect. The scale should always tip in favor of liberty, especially for churches."
MacArthur reportedly ignored the injunction on Sept. 13 and went ahead with indoor services.
He read aloud "a long list of requirements, occasionally drawing laughter from parishioners at rules about parking, restroom protocols and social distancing," the news website Patch reports. Following all the rules would "completely shut the church down," he said.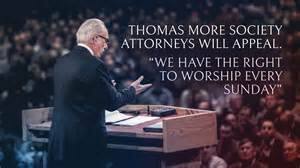 Lawyers for the church and MacArthur vow to appeal the ruling.
"Although this is a temporary setback, we will continue to fight for Pastor MacArthur and Grace Community Church's constitutionally protected right to hold church," Jenna Ellis, special counsel to the Thomas More Society, said in the statement.
"Church is essential, and no government agent has the runaway, unlimited power to force churches to close indefinitely. The County's argument was basically 'because we can,' which is the very definition of tyranny. Without limiting government's power in favor of freedom and protected rights, we have no liberty.
"We will fight for religious freedom, as our founders did when they wrote the First Amendment."
The Office of County Counsel for Los Angeles didn't immediately respond to requests by The Epoch Times for comment.
California began ordering businesses to close six months ago because of the pandemic.
On March 19, California Gov. Gavin Newsom, a Democrat, ordered almost all establishments, including churches, to shut down. On June 18, Los Angeles houses of worship were allowed to conduct reduced-capacity indoor operations. Reported cases of the coronavirus began to increase and in July, most indoor activities were again banned.
Places of worship in California are now restricted to a maximum of 25 percent of building capacity or 100 attendees indoors, whichever is lower; singing and chanting are forbidden.
The church suspended in-person services on March 12, before the county or state issued stay-at-home orders banning large gatherings. Services were conducted online.
But after not holding in-person services for 19 weeks, church elders voted July 23 to reopen the church for such services. Indoor services began July 26 and were followed by a cease-and-desist letter from the county on July 29.
The CDC last month said that 94% of al covid deaths were not primarily from covid, but included two to four underlying conditions, including having been involved in an auto accident.
–Metro Voice and Wire services