Residents of a Christian neighborhood in Lahore, Pakistan have found hope amid despair as they visit the "Wall of Jesus." It's not a shrine but a way to receive free weekly assistance for food, clothes and other essential items. The creation is saving lives after a  lockdown which saw 70% of the country's Christians lose their jobs.
Begun Raja Walter, a 40-year-old Christain man, created the Wall of Jesus to offer basic necessities to people in need especially to families who are severely affected by the Coronavirus pandemic. Walter owns a burger shop and offers free evening meals to laborers and widows since early last year when the government imposed a national lockdown, reports Uganda Christian News.
"Door-to-door visits were conducted for three months to collect leftover items. The wall serves as a direct connection between the donor and the needy beneficiary. Someone's waste can serve the need of another," said Walter.
The wall serves as a direct connection between the donor and the needy beneficiary. Someone's waste can serve the need of another. —Raja Walter, The Wall of Jesus
Youhanabad is the largest majority Christian area in Lahore. A low-income area, it is home to over 50 registered churches and 150,000 Christians. Many people earn meager wages, barely able to provide for the daily needs of their families.
WATCH HOW THE WALL WAS BUILT:
A human rights group revealed that 60% of Christians in the country live below the poverty line and because of the pandemic, the economic situation got worse. According to the Pakistan Partnership Initiative (PPI), 70% of Christians lost their jobs or reported reduced incomes during the nationwide lockdown.
Walter said the Wall of Jesus is another project to help those in need and to show God's mercy to His children. In an interview with AsiaNews, he said, "It is not me, but God who puts these ideas in my head and heart and uses me and my family to do his work. Thanks to Him, this 'wall' never remains empty and is constantly filled. The donors are my friends, family, people of good will. I have only begun it, and others continue it as they come to hear about it."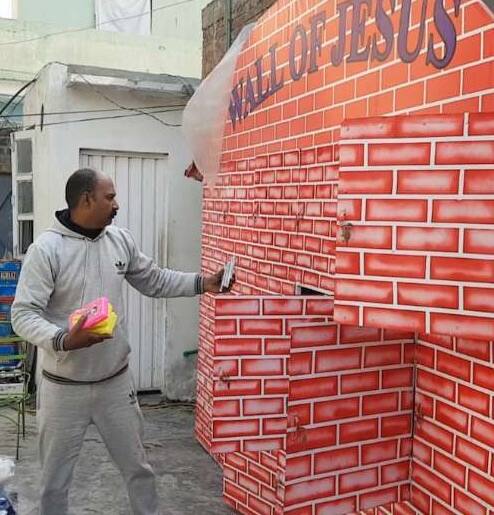 The philanthropist explained that the wall was built to protect the dignity of the beneficiaries. "Most of them are selected from the queues at the food point. Thirty percent of them are Muslims. Some even asked for prayer caps and burqas."
From offering free food and clothes, the Wall of Jesus now gives school supplies such as bags, notebooks, pens, and paper, items that people are unable to buy.
Father Francis Gulzar, parish priest of St. John's Catholic Church in Youhanabad, shared that the idea for the Wall of Jesus was inspired by the 'wall of kindness,' a charitable project in Iran. An anonymous Iranian started the phenomenon in 2015 where hooks and hangers were attached on a wall with the inscription: "If you don't need it, leave it." The act immediately went viral on social media and similar walls sprung up in other countries.
"The Wall of Jesus is another good initiative," says Gulzar.  "The poor are especially benefiting from the project. It can improve interfaith harmony in our area with a sad history."
–Wire services