Target announced this week that it has lost more than $9 billion in sales since revelations it was selling 'pride" clothing for kids, including male genital binder swimwear. But what about the nation's largest retailer, Walmart, or Kohl's?
Walmart sells "breathable" chest binders for "transsexuals, lesbians and tomboys." The items marked "NEW" products are only available online. A chest binder listing on Walmart's website features various images of young girls modeling chest binders.
Walmart has gone all in pushing "pride" branded ice cream, dog biscuits and more.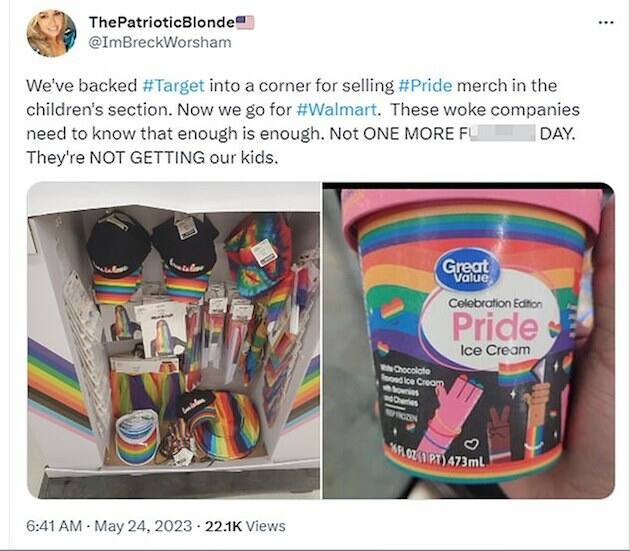 Customers of the stores have posted photos of similar items for sale at Kohl's, Macy's, Old Navy, The Gap, Apple and more. The North Face, a favorite for high-quality outdoor gear, has a nationwide ad campaign promoting a "Summer of Pride" campaign.
We took a stroll with @SarahPPerry through a Target store to see the extent of their "pride" merchandise.

What we found is that @Target is very much in the business of promoting gender confusion and grooming children.

The verdict: avoid shopping at Target. pic.twitter.com/qGnkyFM3gK

— Heritage Foundation (@Heritage) May 25, 2023
Tracy Holmes, who lives in central Pennsylvania, told a media outlet that when she first saw an ad for the campaign she thought it was "definitely a hoax."
READ: Walmart funding drag shows in Arkansas
It wasn't.
"It's a pure level of narcissistic pandering," said Holmes, a mother of four, including two teenagers. "It's not only ridiculous, it's also annoying and insulting. Women don't act like that."
North Face, say critics, has used drag queens with excessive make-up and thick wigs to promote the campaign. Its value has also plunged in the last week.
One model goes by the name Pattie Gonia. Adopting a different style from Dylan Mulvaney—the transgender influencer who partnered with Bud Light and who makes videos about identifying as a teenage girl—Gonia sports a mustache and, in a recent video promoting North Face's Summer of Pride, introduces himself as a "real life homosexual."
In the video, he is dressed in a rainbow-colored dress with a thigh-high hemline and stands in a field surrounded by nature and urges potential customers to "Come Out" and "Nature With Us." The North Face has taken the tour nationwide.
"This tour has everything," Gonia said, "hiking, community, art, lesbians, lesbians making art."
The video includes clips of children and teens outdoors, and is promoted by an ad featuring a little girl wearing a rainbow-colored North Face jacket.
It is the second year North Face has put on its "Summer of Pride" campaign.
As Gonia walks provocatively in the video, he boasts that "last year, we gay sashayed across the nation."
He ends the video by saying, "That was pretty gay."
Canadian-based podcaster Amala Ekpunobi, who considers herself a "red-pilled" former woke leftist turned conservative, accused North Face of being "yet another woke company" pedaling "swift grift."
"Don't fall for it, and maybe don't support North Face," said Ekpunobi, who has 1.23 million followers on YouTube.
Kohls is another retailer facing a boycott in recent days. It carries a large range of pride merchandise for sale, including a Baby Pride Bodysuit set.
The store, which has long promoted itself with the slogan "The More You Know, the More You Kohl's," is also selling items like a Care Bear Pride Rug and, for early holiday shoppers, a "Gay Pride Christmas Nutcracker" complete with rainbow pants and a purple busby hat.
Other stores with pride apparel for children include Old Navy, which is selling pride unisex swim trunks for toddlers, and Macy's, which is selling several kids' toys under its "Pride+ Joy" campaign, launched around the same time as Target's Pride month. They include Minnie and Mickey Pride plush dolls, Funko Pop Heroes DC Pride Collectors Set, and also baby clothes including a "Happy Pride" onesie.

Target this week says that after boycott threats and loss of $9 billion in worth, it is removing some of the items from its stores. It has moved other items to the back of the store.
Target also reported several stores received bomb threats from liberal groups for removing the items from their stores.
–Metro Voice and wire services