Can a children's ministry reach 100 million children every year with the  Gospel message? That's the goal of Child Evangelism Fellowship (CEF), which announced the ambitious goal. The "backyard" ministry is well known for its ministry evangelizing children through school or backyard bible clubs.
"Children grow up quickly, so the time is short when they are most receptive to the Good News," CEF Executive Vice President Moises Esteves says. "It's a narrow window and the need is great, so CEF feels an increased urgency to teach millions of children around the world about the Good News of Jesus Christ."
CEF has a long track record of reaching children, not only in the United States but globally. It officially began in 1937 by Jesse Irvin Overholtzer, who had a burden for bringing the Gospel to children. In 2019, it reached 25.5 million children worldwide, including in sensitive countries. The reach of the ministry suffered during the COVID-19 pandemic, but it is rebuilding and in 2022, it reached 19.5 million with the message of salvation and 6 million made professions of faith.
Its clubs reach about every state from Missouri to Florida and New York to California, and dozens of nations
CEF is a hands-on ministry so Esteves said about 92% of the children it counts as having been "reached" with the Gospel attended one of its bible clubs or events. He said only about 8% are connected through digital ministries or literature distribution.
Esteves told MinistryWatch it plans to continue accelerating its programs and hopes to reach its 100 million goal over the next 10 to 15 years, with growth of 15% each year.
CEF says unanticipated events—like pandemics, natural disasters, and wars—can impact plans so it isn't setting a precise year for accomplishing its goal.
F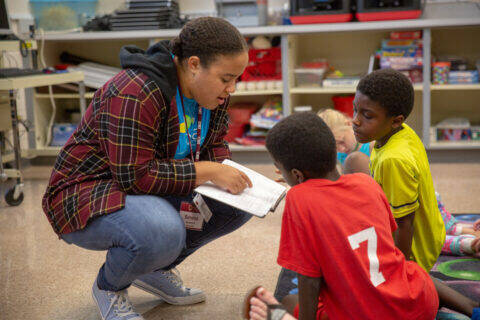 or example, Ukraine and Russia are home to the two largest European CEF programs. However, war between the countries has negatively impacted the reach CEF can have there currently.
In order to meet its goal, Esteves said CEF is planning areas for growth. "You have to understand that the whole structure is in place. The methodology, the programs, the boots on the ground, the organization in the countries—everything is in place. We just need to accelerate," he emphasized.
A few of the areas leadership plans to focus on include the Christmas party ministry and Children Reaching Children.
In 2022, CEF hosted 169,000 Christmas party clubs, reaching 6 million children. Esteves hopes to reach 10 million through the Christmastime ministry in 2023.
"Kids love Christmas, and kids love parties," he pointed out. It's also easier to find believers willing to volunteer for one-time events like Christmas parties, but the hope is volunteers will "catch the bug" and join a team to host a weekly bible club.
The Children Reaching Children program is a special one-day evangelistic training for older elementary-aged students. They learn to use the wordless book where each colored page represents a part of the Gospel message. "They get so excited to tell the Gospel; they are fearless," Esteves said.
Two needs hindering CEF's ministry growth plans are additional Christian volunteers and funds.
"Unfortunately so many times we get calls from principals saying, 'We need a club,' [but] we don't have a team. If that doesn't break your heart, I don't know what does. These kids are struggling, kids in America are so broken…and we have the wonderful message of God's love and the hope of the Gospel, but we can't find people to go and take it," Esteves said, his voice breaking.
"The schools are wide open, but we need churches and believers to say yes."
CEF could also reach more children with more funds. One avenue is through its SPAN—sponsor a national—program that uses native residents who already know the language and culture to reach children in their native land. It is cost-efficient because CEF can pay a native full-time CEF worker $150 per month, Esteves said.
CEF trains its SPAN workers through a three-month Children's Ministry Institute program and has structures for oversight in place with "tight checks and balances" to prevent abuses.
Over the last two years, giving to CEF was strong and it built up some reserves. But Esteves said contributions have slowed this year, and it is using those reserves to fund ministry.
CEF is cautious in counting children making professions of faith, Esteves said. When children show interest in the Gospel, Bible lesson teachers meet with them individually off to the side. This takes place while the class plays a game. The idea is that if children are really being convicted by the Holy Spirit, they won't be distracted by the game. After asking some probing questions about a child's understanding of the Gospel, the teacher invites a child who expresses an interest to pray either individually or with help and then follows up with verses of assurance.
"We make a big deal about the number of children reached because that is what the Lord said to do. The professions of faith we report on because people want to know, but only God knows those who are truly his," Esteves noted.
–MinistryWatch.org