Since 1989, Summit Christian Academy has prepared students for spiritual leadership and academic excellence. SCA has grown from 32 students to 775 and has been ranked as one of the top five private schools in the KC area. Situated on a 36-acre campus, SCA provides excellent academics, performing arts, speech and debate, athletics, as well as leadership organizations and clubs.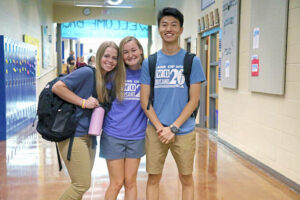 An SCA core value is "inspiring excellence in learning." SCA faculty members inspire students to excel academically in an atmosphere where students can think creatively, learn to discern truth, think critically, and choose wisely. In academics, arts, and athletics, SCA upholds a standard of excellence that encourages students to achieve their individual best. SCA students consistently score 28-30 percent higher than the national average on the Stanford 10 administered to K-11 students every year and has an average ACT score of 25 with 98% of graduates going on to higher education.
The environment allows teachers the opportunity to provide individual attention students need to succeed. This special mentoring approach combined with a strong core program in phonics, reading, geography, language, spelling, mathematics, history, Spanish, Bible, and science makes SCA the school of choice for Christian families whose priority is excellence.
The college-preparatory curriculum challenges students and provides an opportunity to earn up to 74 hours of college credit.
Enrolling now for the 2020-21 school cear! Contact Sarah or Kelsey at 816.525.1480.
MORE INFO